Home of world's oldest gay creature votes to legalise same-sex marriage
The remote island of St Helena has voted to make marriage equality a reality for its almost 5,000 residents – and one very special gay animal.
According to St Helena Online, the St Helena legislative council voted nine votes for and two against legalising same-sex marriage.
The decision means that gay and lesbian couples could be allowed to get married within weeks.
Councillor, the Honourable Cyril Leo said he feared that the passage of marriage equality could lead to a homophobic backlash on the island but he urged people to embrace the decision and to "make love our greatest quest".
The Hon. Christine Scipio-o'Dean said: "We cannot discriminate. We must not, and we must strive to ensure equality."
The Hon. Lawson Henry added that, "This bill has never been about religion, it is about equality and protection of minority groups."
Councillors also noted that marriage equality would be good for the economy as it could stimulate much-needed tourism to the isolated volcanic island.
St Helena – which is located 1,950 kilometres off the coast of southwestern Africa – only recently opened its international airport, making the island much more accessible to the world.
Governor Lisa Phillips still needs to approve the marriage equality bill before it becomes law.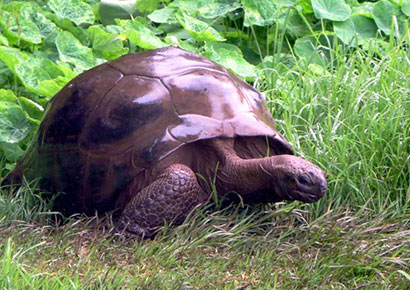 St Helena is reputed to have the oldest known living gay creature – and world's oldest living land animal; a tortoise named Jonathan, that's 186-years-old.
In 1991, the animal was successfully paired up with a partner, Frederica, and the two "mated" regularly over the last three decades. It was only recently, however, that it was discovered that Frederica is in fact also male, and was renamed Frederic.
St Helena, which is a British Overseas Territory, joins nations such as Australia, Austria, Germany, Malta and Taiwan, that have enacted or moved to embrace marriage equality this year.
Bermuda, another British Overseas Territory, however, has recently voted to reverse the right to same-sex marriage.