Naked in New York! Meet SA's hottest new singing export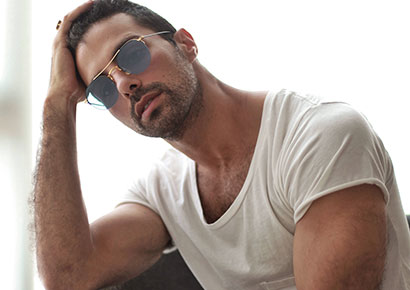 Every now and then, a South African celebrity seems to slip through our fingers, making it big internationally without us even realising it.
Enter the ridiculously good looking Israeli-born Cape Town singer, Oshri. Chances are you may well have heard some of his music, but not yet put a face to cool, sexy tracks like Bad Reputation, Crazy But Free, or his latest single, Too Much.
You might also recognise Oshri for winning the TRACE Music Stars reality competition. The show was mentored by Wyclef Jean and broadcast on Trace Urban, the second largest music video television network in the world.
Oshri has since moved from Cape Town to New York to gain recognition in the music world. And get this, while performing at the Trace Urban Music Awards in Paris in 2015, he was approached by American pop / R&B superstar, Akon himself, who signed Oshri to his label.
Shortly after the deal was finalised, Oshri began working on his EP with songwriter, Mike Campbell. That's pretty big, considering that Campbell is known for co-writing songs like Say Something by Christina Aguilera and Great Big World. Another highlight was walking the red carpet at the Grammy Awards this year.
Oshri now spends most of his time between Los Angeles and New York, and when he can, Cape Town. He also has a penchant for taking off his shirt – and more! Check out the video below for Crazy But Free, in which he strips down in the middle of Manhattan, New York. (The track, by the way, made it onto the BillBoard top 40 Dance Charts).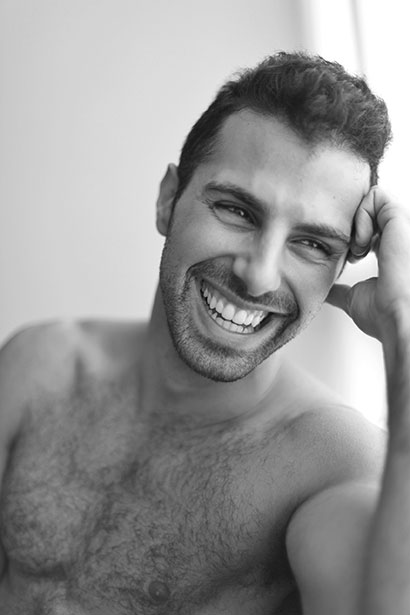 Oshri's music style is heavily influenced by his family's cultural diversity, with French and Middle Eastern parents – creating a one-of-a-kind sound and drooling good looks.
And we love the messages behind his songs. Crazy But Free is all about being your authentic self, no matter where you are in the world.
His latest single, Too Much, is about the pressure that women are under to always look their best.
Mambaonline spoke to the sizzling star about his career and influences.
To what extent does your Middle Eastern heritage play a role in your music?
I was raised on Middle Eastern music, so it's injected in the way I sing and the way I compose my melodies. It's not all that much on the nose, but you definitely hear some elements in the productions of the songs as well.
Growing up, what were your musical influences?
My mom's playlist had lots of Middle Eastern tunes and some of my friends introduced me to some really cool stuff. However, MTV was the biggest influence as I have always been a pop fan.
How did living in South Africa impact you?
I moved to SA during a very important and critical period of my life. The people of South Africa taught me all about humbleness, how to appreciate life, to smile all the time and sing no matter how hard life is. SA is incredibly special to me and I'll ALWAYS call it home.
How much of a connection do you maintain with South Africa?
A very strong and tight one! I have friends that I consider family in SA, and we literally talk every single day. I made it very clear to my US agencies to prioritise South Africa when it comes to my career.
We hear you'll be back in cape Town in December. Is that true and what will you be doing here?
Yes, indeed. It's a tradition. I visit SA for the holidays and I always bring at least 10 to 20 friends with me. This year I have friends joining me from Los Angeles, New York, Zurich, Amsterdam and Israel.
You attended the Grammies earlier this year. What was it like?
Honestly, it was so much fun! It's a massive production that gathers all the most talented people in the world. The highlight was definitely walking the red carpet alongside people like Nick Jonas, Demi Lovato, Chance the rapper, amongst so many others. It was an unforgettable experience.
We love the fun of the Crazy But Free video! What was behind the concept of 'getting naked'?
Generally, privately, I love being naked! [Laughs] But the message I was trying to deliver through the song and video was "be who you are no matter where you are". Being naked for me is so much more than literally wearing no clothes – it's about being comfortable and free in your own skin.
It seems that your music often has a message behind it. What inspires you when it comes to what you choose to write and sing about?
Thanks for noticing! My songs are my way to talk to the world and share my stories, challenges and points of view on life. There is definitely a sense of responsibility I feel about what message I'm sending out. I know people are going to listen to the song and most of them might be teenagers at a very influential age – so I know what message I want to pass on to them.
Do you plan to perform in SA anytime soon? And when can we expect an album?
I'll probably only perform in 2018 when the new material is released. For now, we're focusing on singles, but we're planning on releasing an EP in the first quarter of 2018.
Watch Oshri take on New York in the video for Crazy But Free below.