Bail for Mooinooi lesbian couple murder accused delayed
The seven people accused of the torture and murder of married lesbian couple Anisha and Joey van Niekerk will remain behind bars for now.
The suspects appeared in the Brits Magistrates' Court on Wednesday to apply for bail. They face charges of murder, rape, kidnapping, robbery and the unlawful possession of a firearm.
As one of the recently appointed lawyers for the accused needed more time to prepare the hearing was postponed to 15 January.
According to IOL, the police were accused in court by lawyer Pontsho Raikane of severely beating three of the suspects when they were arrested.
Magistrate Semakaleng Thamage ordered that the injured parties be sent for medical attention within two days.
Friends and family of the two women wore black t-shirts in court that bore the slogan "geen borg" (no bail).
In the meantime, police are on the hunt for an eighth suspect in connection with the horrific murder.
A R5,000 reward has been offered for information leading to the successful apprehension of 21-year-old Mercia Witney van Rooi. Van Rooi is said to be the fiancée of chief suspect Koos Strydom.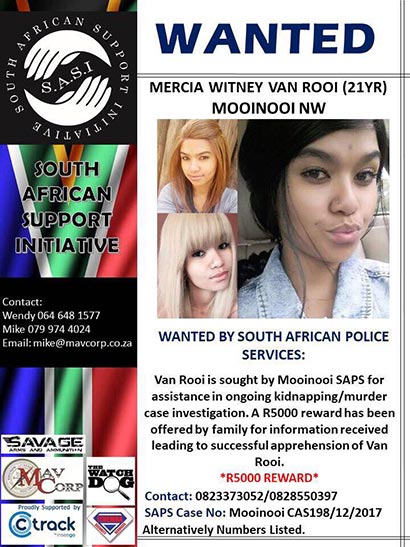 Strydom is a panelbeater who had a workshop on the murdered women's property in Mooinooi, North West. He is alleged to have killed the couple over a dispute about the sale of the land. It's not yet clear if the murder was in any way linked to the women's sexuality.
The other accused in the case are Strydom's minor son and his girlfriend, as well as four of the man's employees.
The couple went missing on 10 December while they were on their way to Pretoria.
Police later found their burned out vehicle and the remains of two unidentified bodies. The results of DNA identity tests are still pending.
There are reports that the women were hung up in a shipping container, tortured and shot dead, after which their bodies were set on fire.
According to Facebook, Anisha and Joey got married on 5 November 2014.