Printers apologise for sending same-sex couple 'satanic' pamphlets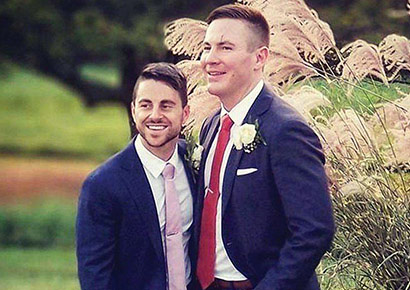 The printing company that replaced a gay couple's wedding programmes with shocking anti-LGBT pamphlets has apologised.
The men, Australians Stephen Heasley, 39, and Andrew Borg, 31, (pictured), ordered their wedding programmes through Vistaprint, a popular international online printing service.
The blue and gold programmes were to include flowers in the design and the lyrics to their processional song, Treasure, by the English group Above and Beyond.
When the programmes arrived on the eve of their wedding, the couple excitedly opened the package only to discover that it instead contained pamphlets condemning homosexuality as satanic.
Titled Understanding Temptation: Fight the good fight of the faith, the pamphlets warn that "Satan entices your flesh with evil desires" and that, "it is an act of rebellion against God's holiness".
The couple, who got married in Pennsylvania in the US last September, had to print the programmes at the last minute through another company.
They are now suing Vistaprint for unlawful discrimination. Represented by New York based law firm Wigdor LLP, they are demanding financial compensation and an order barring the company from similarly discriminating against other same-sex couples in future.
According to court papers, the pamphlets were deliberately "sent to threaten and attack Mr. Heasley and Mr. Borg because they are gay" and caused them "tremendous pain and anxiety on the day before their wedding".
"This case presents a particularly egregious example of a company refusing to provide equal services to members of the LGBTQ community," said the men's lawyer, Michael J. Willemin.
"This took a great deal of joy out of what should have been the greatest day of our clients' lives. They want to make sure that this story is told and that people know what happened to them."
In a statement on Thursday, Vistaprint said that, "we have never been more disappointed to let a customer down".
The company insisted that it "in no way condones – and does not tolerate – discrimination against any of our customers based on their race, religion, gender or sexual orientation".
Vistaprint pointed out that it has in fact encouraged members of the LGBTQ community to use its services "to help celebrate their life events for many years, and [has] published thousands of wedding invitations, programs and other content for same-sex couples".
The company said it has begun an investigation to determine how and why the couple received the offensive pamphlets and would take strong action if the incident was shown to be deliberate.
Vistaprint promised to "use our global brand platform to share a message of support for same-sex marriage and equality around the world".
"We have reached out to the couple to express our sadness that this incident occurred, and disappointment that this in any way diminished the joy of their wedding day memories," said the company.