Stubborn bureaucrats block Costa Rica's first gay wedding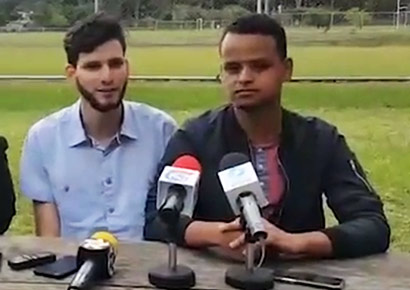 Two men who were set to become the first same-sex couple to legally marry in Costa Rica are devastated after their plans were stymied by defiant government officials.
Mario Arias and Roberth Castillo (pictured) planned to tie the knot on Saturday after the Inter-American Court of Human Rights earlier this month ordered the Central American country to legalise same-sex marriage.
The court's decision was welcomed by Costa Rica's government, and President Luis Guillermo Solís called on state institutions to comply with the ruling while lawmakers enact a marriage equality law.
Despite this, the country's stubborn Superior Council of Notaries announced on Friday that it had ordered its notaries to not approve and register same-sex marriage licenses.
"The rules that regulate marriage in Costa Rica … remain in force," the council insisted in a letter to notaries.
The disappointed couple had earlier been given advice by experts that they would be allowed to marry, but they were forced to postpone their nuptials at the last minute – the night before the wedding.
Arias told La Nación that they were "shocked" by the council's decision. His fiancé added that they nevertheless believe that it is simply a matter of time until they and other same-sex couples in the country are allowed to marry.
"In the end we will be able to get married and, as always, love will win," Castillo said. The couple are now considering taking legal action against the Council of Notaries.
Costa Rica's Justice Minister Marco Feoli has condemned the council's order and said that it was in violation of the president and the Inter-American Court.
The court's historic ruling found that barring same-sex marriages was discriminatory. Its order is biding, not only on Costa Rica, but on all 20 countries in the region that are signatories to the court's decisions. Of these, 16 had not yet approved marriage equality at the time of the ruling.