A world first! Cosmo SA's new cover girl is trans star Laverne Cox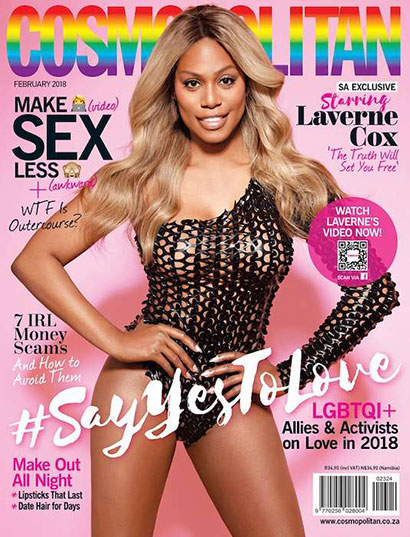 Cosmopolitan South Africa has broken new ground by featuring Emmy-winning American transgender actress Laverne Cox on its cover.
It's believed that this is the first time that a trans model or celebrity has ever appeared on the cover of any edition of the iconic international women's magazine.
The world exclusive photo shoot of Cox (45) will be included in February's 'SayYesToLove' edition.
The magazine's focus for the month is celebrating love in all its forms, highlighting local LGBTQI+ influencers such as trans model and activist Elle van der Burg.
The striking cover image shows a confident Cox in a mesh bodysuit, below the magazine's masthead, which has been given a rainbow makeover.
In an accompanying video for Cosmo, Cox, who is also a producer and an LGBTQI+ rights advocate, was asked about the most romantic thing someone has ever done for her.
"As a black transgender woman I've often been kept a secret by the men that I've dated," she said. "So when my ex-boyfriend introduced me to his dad and invited me to spend Hanukkah with him and his family, that was the most special thing ever."
"Trans women deserve to be loved out in the open and in the light," added Cox.
Holly Meadows, the Editor-in-Chief of Cosmopolitan South Africa explained that the magazine's goal "was to play a small part in providing visibility for the LGBTQI+ community, of which Laverne has become a revolutionary icon."
"We wanted to disrupt hetero-normative ideas around February and Valentine's Day and look at love in 2018 – including acceptance of self, others and non-binary relationships," she said.
"Cox is the world's most vocal trans poster girl and an activist for the intersection of race, class and gender identities, challenging toxic masculinity, white supremacy and the misrepresentation of trans people.
"For us at COSMO, love – at least for this issue – is celebrating Laverne as the fun, fearless female she is," added Meadows.
Cox first came to the public's attention with her role as Sophia Burset in Orange Is the New Black.
She's since become the first trans person to appear on the cover of Time magazine, the first openly trans Primetime Emmy Award acting nominee (and a winner as an executive producer), the first to have a wax figure of herself at Madame Tussauds and the first to play a transgender series regular on broadcast TV, as Cameron Wirth on Doubt.