Elton John announces retirement after one last global megatour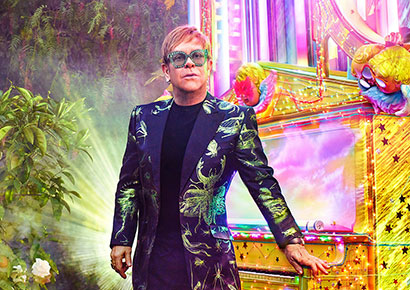 In the wake of a 50-year career, legendary musician Elton John is set to retire from touring, but only after completing one final mammoth world tour.
The 70-year-old icon made the announcement at Gotham Hall in New York City On Wednesday at an event that featured highlights of his career as well as a performance by the man himself (watch below).
"I've been touring since I was 17 with various bands," John said. "I thought the time is right to say thank you to all my fans and say goodbye."
He will embark on his final Farewell Yellow Brick Road tour on 8 September in the US. Over three years, he will perform more than 300 shows across five continents – North America, Europe and the Middle East, Asia, South America and Australasia – concluding in 2021.
John explained that as his two children approach their teens, he intends to spend more time with them instead of traveling around the world.
"After the tour finishes, I'm very much looking forward to closing off that chapter of my life by saying farewell to life on the road," he said. "I need to dedicate more time to raising my children."
The new stage production will take his fans on a musical and highly visual journey spanning five decades of hits.
"Performing live fuels me and I'm ecstatic and humbled to continue to play to audiences across the globe," said the star. "I plan to bring the passion and creativity that has entertained my fans for decades to my final tour."
He added that he doesn't intend to retire completely, and still hopes to make new music in the future. There's no word yet if his tour will include any shows in South Africa.
John and David Furnish, his partner of more than 24 years, officially married in 2014. They are raising two boys, Zachary and Elijah, who were born through surrogacy.
Since launching his career in 1963, John has become one of the world's most high profile and successful openly gay performers, having sold more than 300 million records.
He has also put his fame and immense wealth to good use by speaking out against homophobia and funding a number of HIV awareness campaigns, including in South Africa, through his Elton John Aids Foundation.