Pride TV Highlight: Latter Days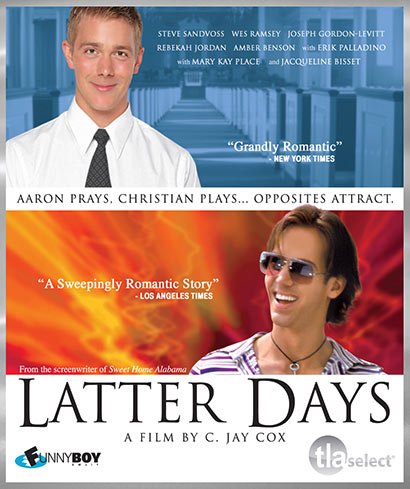 Joseph Gordon-Levitt stars in this heartthrob romance that's guaranteed to leave you hot under the collar.
Gay | Comedy, Drama, Romance | Award Winning | Full-Length Feature
Latter Days has won 11 Audience Awards at various Film Festivals across the globe, and it's no surprise. This rollercoaster of a film has everything you would want from the good 'ol gay romcom; drama, romance, laughs and accepting who you are.
Mormon missionary man Aaron has just moved to Los Angeles, with his fellow Mormon devotees, in the hopes of converting people to their religion. The men just happen to move in to the same complex as Christian, a heartthrob, who couldn't be any more different than Aaron.
Christian drinks, sleeps around and is an openly gay man, a taboo in the Mormon community. As opposites start to attract, Aaron and Christian cannot stop subtly flirting with each other.
After Aaron is caught in the act of kissing Christian, he returns home to Idaho, where his mother is pushing him into shock 'conversion therapy'.
However, Christian has fallen in love with Aaron, so much so that he travels half way across the country in order to win Aaron's, and his mother's, heart. Hot and steamy, full of famous faces and full of laughs, Latter Days is the perfect movie for those 'cuddle on the couch' days, or if you are in need of a romance movie.
Available exclusively on PrideTV for only R79 per month or R2.50 per day (mobile billing). Subscribe now and get your 2 day free trial at www.pridetv.co.za. Watch the trailer here.