Video abuse gay couple may have been blackmailed by police officers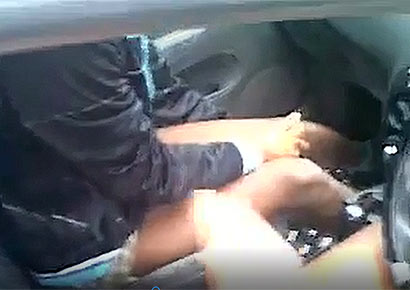 It's been alleged that the police officers who filmed and abused a gay couple in Pietermaritzburg also blackmailed the men.
In the video, the men – allegedly caught having sex – are seen in a vehicle with their genitals exposed, as at least two other individuals, believed to be police officers, threaten to arrest them.
The clip, which reportedly was filmed in 2012 but only recently went viral on social media, shows the alleged officers using anti-gay slurs and humiliating the men, refusing to let them pull up their pants.
Not only was the couple traumatised by the abuse at the time but the recent widespread public dissemination of the video has added to the closeted men's ordeal by further humiliating and outing them.
The Gay & Lesbian Network (GLN) has spoken to one victim who has claimed that the officers blackmailed him and the other man, threatening to distribute the video.
"It was an opportunistic incident," said GLN Director Anthony Waldhausen. "The [police] allegedly asked them for money if they didn't want to have the video shown. They knew the couple wouldn't want to press charges because they'd feel too embarrassed."
Waldhausen told Mambaonline that, according to the victim, the men were taken to the Loop Street police station and were only released after they agreed to pay the bribe.
The video has reportedly led to the victims being mocked and rejected by their family, work colleagues and community. The one man, who is a teacher, has had to take leave from work because of the fallout from the video from both students and staff.
"This has affected them badly," said Waldhausen. "The video going viral has really humiliated them, with them being naked like that and the police making homophobic statements to them."
While the victims do not want to be further identified or speak out, Mambaonline understands that the individual who's been in touch with GLN has now sought legal advice from a lawyer and laid charges against the officers.
These include being threatened with a weapon, hate speech, intimidation, unfair discrimination, blackmail and harassment.
Activists have also made contact with the Independent Police Investigative Directorate (IPID) with regard to misconduct charges against the officers. As the individuals filming and harassing the men are not visible in the video, it is difficult to identify them.
The Witness reported that Alexandra police spokesperson Captain Kholeka Mhlongo has condemned the actions of the suspected officers in the video. While she could not yet confirm that the men accused of the abuse and of filming the video are indeed police officers from the area, she said that such behaviour was "unacceptable".
"Police are trained not to discriminate. It is against the law," she stated, adding that the video was "difficult and upsetting to watch".