Malaysia's gay checklist could have deadly consequences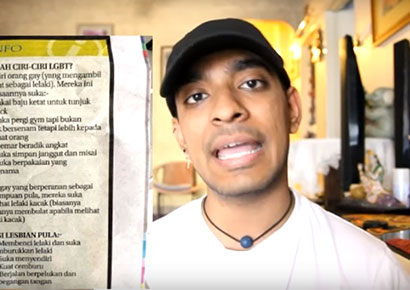 A newspaper in Malaysia has sparked outrage after publishing an absurd checklist to help its readers "identify" gay people.
The article, published by Sinar Harian, is not only based on ridiculous stereotypes and traits but also fuels dangerous homophobia in a country where homosexuality is outlawed.
According to the newspaper, gay men can be identified by the following characteristics: wearing beards; going to gym to eye out other men; wearing tight and branded clothes; and having their eyes light up when they see a handsome man.
When it comes to lesbians, they can be spotted, claims the newspaper, if they hug and hold hands with other women and and hate and belittle men.
The list – and the idea of needing to 'identify' lesbian and gay people – has been met with anger by the LGBTQ community and human rights activists.
Social media star Arwind Kumar slammed the newspaper and warned that its irresponsible journalism could lead to witch hunts. "With an article like this you are only going to take away lives," he said in a video.
"If you really want to educate society then explain to them the traits of a paedophile, a molester, a murderer, a kidnapper, those kind of people who actually endanger the lives of others. How the hell does a gay person endanger your life?" Kumar asked.
Homosexuality is a social taboo in Malaysia and is punishable with penalties of up to 20 years in jail. Transgender woman can also be persecuted and charged with "public indecency" and those who are Muslim may also fall foul of Islamic Sharia laws banning cross-dressing.
In February 2017, Sameera Krishnan, a 27-year-old transgender woman was hacked, shot three times and mutilated in her florist shop.
Later that year, an 18-year-old student named T Nhaveen was beaten, burned and raped with a blunt object by a group of homophobes for "being gay". He later died of his horrific injuries.
Government officials have repeatedly backed conversion therapy courses to "cure" transgender women and "gender-confused individuals". In June, 2017, the country's Ministry of Health came under fire for holding a video competition for young people to suggest ways to "prevent, control and seek help" for people who are LGBT.