Tom Daley and Dustin Lance Black are having a baby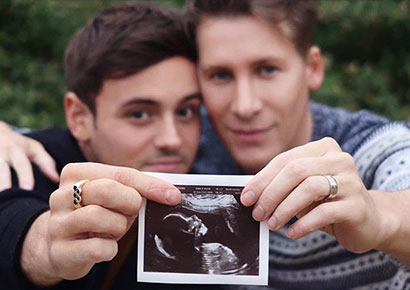 Congratulations are in order after Tom Daley and Dustin Lance Black revealed that they will soon be fathers!
The men, one of the most high profile gay couples in the world, made the announcement on Valentine's Day on social media.
They each posted adorable pictures on Instagram of themselves holding up an image of an ultrasound scan of a baby.
Black included the comment: "Very happy #ValentinesDay from ours to yours," alongside an emoji of a same-sex family.
A spokesperson for Daley confirmed the news: "Tom and Dustin are thrilled to share that they are expecting their first child in 2018."
The couple of around five years got married in May 2017 in a lavish ceremony at Bovey Castle in Devon, England.
According to Daley, 23, they first met at a party. "I can't get him out of my head all the time," Daley said in 2013. "I've never had it before where I love someone and they love me just as much."
In October last year, Daley stated that a family was definitely in the couple's plans. "I've always been a ­family person so I've always wanted kids, and I know Lance does, too," he said.
"I don't know how many – an army of kids, a whole diving team. We're both lucky to have supportive families and we want to share that with our own children."
The British diver, who won bronze medals at the 2012 and 2016 Olympic Games, came out as bisexual in 2013 and then clarified a few months later that he identifies as gay.
Black, 43, won an Academy Award for his script for the acclaimed 2008 film Milk, about the life of openly gay politician and activist Harvey Milk.