Cape Town Pride 2018 | Here are all the details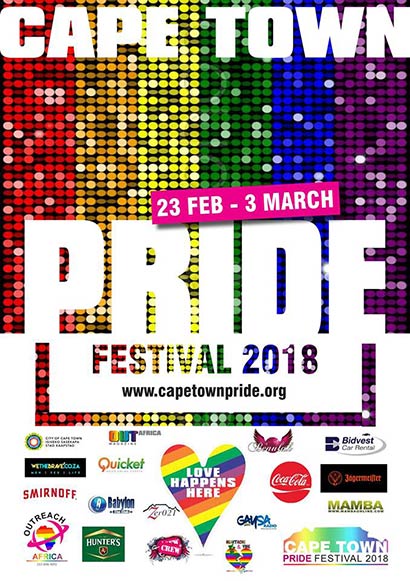 The Cape Town Pride 2018 Festival returns for its 16th annual outing under the theme "Love Happens Here" from 23 Feb to 4 March.
The festival will see the return of long-standing hallmarks of Pride, including the Mardi Gras, the Pride Parade, Mr and Miss Cape Town Pride, the Pride Bookcase, poetry and art and the Divas experience.
In addition, there will be a full slate of cultural and affiliate events, workshops, community and festival events, and more.
It all kicks off with the multi-venue party-crawling Pink Party on Friday 23 February at 8pm. A R30 stamp will get you into Crew Bar, Beaulah Bar, Zer021 Social Club, Babylon Bar, Heartache and Vine, Versatile and Pink Panther Night Club.
The Pride Parade and Mardi Gras will be held on Saturday 3 March.
The parade begins at 12pm at the Fan Walk at the beginning of Somerset Road at 12pm and will proceed to Reddam Field at Green Point Urban Park.
The Mardi Gras festivities at Reddam Field, which run from 1pm till 8pm, will be hosted by Soli Philander and Chantel Venter. The headline performers are Mathew Gold and Zoé Zana.
Other performers for the day include 3 Tons of Fun, Manila Von Teez, Latheem Gabriel and 3D, while Bash, Groovy Q and The Chad will take care of the DJ duties.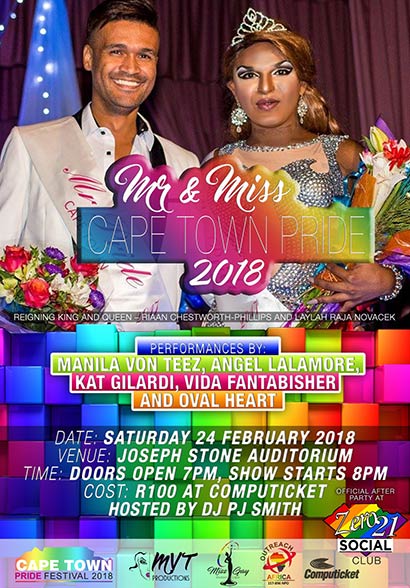 "This year marks 23 years since the decriminalisation of homosexuality in South Africa and 11 years since South Africa voted to legalise same-sex marriage," said the organisers in a statement.
"We have come a long way in those 23 years, yet we face daily reminders that the global battle for true equality is far from over, and rights hard won can be threatened, attacked and taken away. We exist to continue to fight for true equality and challenge prejudices that the LGBT+ community still sadly face on a daily basis."
Added Matthew Van As, Cape Town Pride Festival Director: "Pride week 2018 will celebrate and empower Cape Town's vibrant and creative LGBTQ+ communities in unique and exciting ways.
"With the help of our business and community partners, we're [hosting] new spaces, new activations and new events that will grow the festival and create spaces for all members of our community to come together, be proud, and have fun, because Love Happens Here."
Below is a schedule of the events planned for Cape Town Pride 2018. Please refer to the Facebook page for more details.
FEB 23 – Pink Party
8 PM @ various clubs and bars
FEB 24 – COZY Pool Party – Pride Edition
1 PM @ Radisson RED (V&A Waterfront, Cape Town)
FEB 24 – The Bird Cage – Pride Matinee Performance
2:30 PM @ The Milnerton Playhouse
FEB 24 – Pre Pride Party Ekasi
Green Point Urban Park3 PM @ Dez-Tshisanyama, Gugulethu
FEB 24 – Cape Town Pride Mens Party
8 PM @ 237 Main Road, Three Achor Bay
FEB 24 – Mr & Miss Cape Town Pride 2018
8 PM @ Joseph Stone Auditorium
FEB 24 – Cape Town Pride Women's Night 2018
9 PM @ Beaulah Bar
FEB 25 – Rainbow Pride Fun Run
8 AM @ President Hotel
FEB 26 – Cape Town Pride 2018 Bookcase
6 PM @ Zer021 Social Club
FEB 28 – Hein Reinders Solo Art Exhibition
7 PM @ TAU Cape Town
FEB 28 – Pride Karaoke Party
8 PM @ BarCode
MAR 1 – Pride Beach Picnic
6 PM @ Clifton 3rd Beach
MAR 1 – Pride Board Game Night
7 PM @ The Big Box Cape Town
MAR 1 – Pride Divas Extravaganza
Thu 8 PM @ Zer021 Social Club
MAR 1 – Hothouse Mixed Night
8 PM @ Hothouse Steam, Leisure & Adult Store
MAR 2 – Art and Poetry Night
8 PM @ UPSTAIRS on Bree
MAR 3 – Cape Town Pride Parade and Mardi Gras
12PM Parade @ Fan Walk, beginning of Somerset Road
1 PM Mardi Gras @ Reddham Field, Green Point Urban Park