Russia | Only Putin can save you from the gays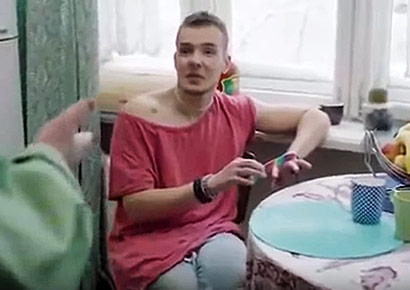 A homophobic video urging Russians to vote for President Putin in the upcoming election or face having gays move in with them has been watched by millions.
In the video, a middle-aged man, played by well-known Russian actor Sergei Burunov, debates the value of voting with his wife as they get ready for bed. In a mocking tone, he tells her that it's not worth setting the alarm to wake up early to vote as her vote won't make any difference in who's elected president.
The man then wakes up to find that Russia has changed overnight. In addition to learning that the conscription age has been raised to 60 by the new president, he's shocked to find a gay man in his kitchen, buffing his nails with a rainbow nail file.
The man's wife explains that it's now the law that every family must take in a gay man who's been dumped by his partner for a week. She adds that if the gay man isn't paired up soon, "you are going to be his partner instead".
The gay man, who is shown suggestively eating a banana, shrugs and says to him, "It's the law".
Eventually the terrified man wakes up screaming in bed but realises it's just a nightmare – only to discover to his horror that his wife has been replaced by the gay man, now lying next to him.
It's not clear who commissioned the video, which has gone viral on social media, but it's believed to have been produced by supporters of President Putin ahead of the March 18 election.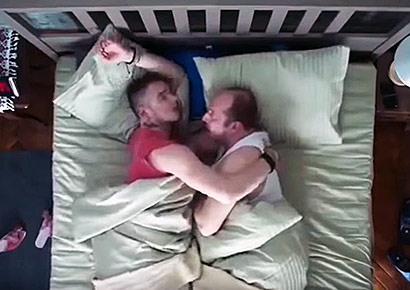 Liberal candidate Ksenia Sobchak, who is opposing Putin and supports gay marriage, slammed the video. She wrote on Instagram: "To expose LGBT as a threat in a homophobic country is no longer a joke. This is again the incitement and humiliation of those in the minority."
While homosexuality is not illegal in Russia, the LGBT community faces ongoing discrimination, restrictions and stigma. Public demonstrations and Pride events in support of LGBT equality are illegal under the country's controversial law banning the promotion of 'non-traditional' sexual relations, signed by Putin in 2013.
In April last year it was reported that dozens of men "accused" of being gay has been rounded up, detained in secret facilities, tortured and in some cases killed in Chechnya, a semi-autonomous Russian region. While Putin promised to investigate the persecution in the wake of massive international pressure, no developments have been announced.