Male escort outs Catholic priests with explicit dossier over anti-gay hypocrisy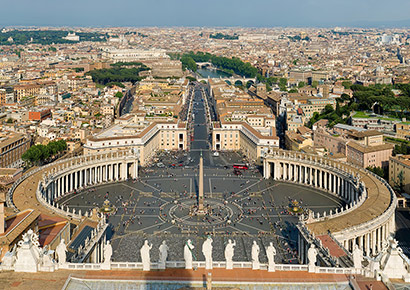 An Italian male escort has outed around 50 closeted Catholic priests to the Vatican in a bid to expose them for their hypocrisy.
Francesco Mangiacapra, a former lawyer turned escort from Naples, compiled the dossier of information about the priests over a number of years.
It reportedly contains names, nude photos, explicit videos and WhatsApp and Facebook conversations and messages. They are alleged to show that the priests engaged in or were interested in sex with other men and escorts.
The Italian media has already published screengrabs of some of the chats in the dossier that include explicit images.
Mangiacapra told Catania Today that his intention behind the mass outing was for the priests to admit what they had done and to "stop preaching hatred towards gays".
His said he did not intend to denounce the Catholic Church as a whole but rather to "bring to light the reality clearly in contrast to the obligations imposed on the cassock [religious clothing]".
Mangiacapra does not want the priests to be punished, he said, but to have the opportunity to "reconcile with their own homosexuality".
The 1200 page dossier has been delivered to the Chancery of the Archiepiscopal Curia of Naples on a CD. The acts that they document are not illegal nor involve minors but they are condemned by the church.
Mangiacapra said: "What I want to explain is that I, as a person who enjoys sexual freedom, do not condemn the homosexuality of priests. Homosexuality is not a crime, what is condemned is the incoherence of these priests."
Mangiacapra added that what he had documented were not once off incidents "but repeated behaviors over time".
In a post on his Facebook page, Mangiacapra said he'd heard that a number of frantic priests are concerned that they may be among those exposed in his dossier.
"These ecclesiastics with an unclean conscience would evidently be better off worrying about the incompatibility of their vocation with their actions: this is the cause of the scandal," he commented.
Mangiacapra has previously written a book called Number One: Confessions of a Prostitute in which he wrote about becoming a favourite escort to a number of clerics.
Priests in the Catholic Church cannot marry or have sex. Homosexuality is further condemned by the church as "acts of grave depravity", as "intrinsically disordered" and "contrary to the natural law". The Vatican has actively campaigned against same-sex marriage around the world.
Last year, Vatican police raided a 'gay orgy' at an apartment occupied by a Catholic official who works for one of Pope Francis' key advisers. There have been repeated claims over the years that there is a secret 'network' of gay priests in Rome.