Ellen boycotts Bermuda over same-sex marriage reversal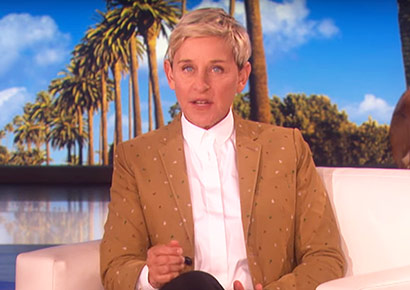 Ellen DeGeneres has called for a boycott of Bermuda after it became the first territory in the world to reverse marriage equality.
Last week, the openly lesbian talk show host tweeted: "Bermuda just banned marriage equality. I guess I'm canceling my trip. Anybody else?"
DeGeneres, who married her wife Portia de Rossi in August 2008, included a link to a crowd funding campaign that is supporting a lawsuit brought by gay Bermudian, Rod Ferguson, against the island's Attorney General.
When Bermuda's Supreme Court initially legalised same-sex marriage in May last year, cruise ship companies based there began to offer passengers the option of same-sex weddings.
In February, less than a year later, Bermuda enacted a controversial bill replacing same-sex marriage with domestic partnerships, leading to a number of these cruise ship weddings being canceled.
DeGeneres' call for a tourism boycott, however, is not supported by some LGBTQ rights activists, who believe that it could do more harm than good.
"It could increase discrimination against local LGBTIQ people, who may very well be used as scapegoats for any negative impact on tourism and the economy," said Jessica Stern, Executive Director of OutRight Action International, last month.
"Not to mention the consequences for LGBTIQ people who themselves work in the tourism industry," she added.
Tourism accounts for an estimated 28% of Bermuda's GDP, 85% of which is from North America. In December last year, the Bermuda Tourism Authority warned that the reversal of marriage equality risked becoming "an unnecessary threat to the success of our tourism industry".
Ferguson's legal challenge to reinstate same-sex marriage is set to be heard in the Bermuda Supreme Court on 21 and 22 May.
Bermuda just banned marriage equality. I guess I'm canceling my trip. Anybody else? https://t.co/c5bwUbyjZt pic.twitter.com/VpT5QQAFsq

— Ellen DeGeneres (@TheEllenShow) March 7, 2018