"Live fearlessly!" Adam Rippon's inspiring speech (video)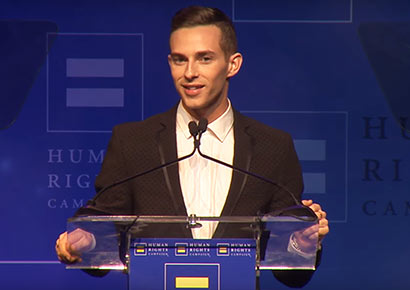 American Olympic figure skater Adam Rippon has spoken passionately about the power of coming out and learning to love your own uniqueness.
Rippon was awarded the Visibility Award at the Human Rights Campaign (HRC) Los Angeles Dinner on Saturday night.
The openly gay athlete has become a sensation thanks to his amazing talent on the ice as well as his outspoken stance on LGBTQ equality.
The 28-year-old was presented with the award by fellow gay Olympian, skier Gus Kenworthy. Taking to the stage to accept the honour, Rippon spoke about coming out, saying that it made him feel "reborn".
"I like to talk about my coming out because coming out has been the most liberating experience of my life. When you can share who you are with the world you will find great power," he said.
Rippon also revealed that he grew up always feeling different – even within the LGBTQ community. "When I was little I used to care so much about what others thought of me," he said.
"I was mindful of the way I dressed, my mannerisms, the way I talked. I was afraid people would think I was weak. I was afraid of making mistakes. I was afraid that I wouldn't be welcomed by the LGBTQ community because someone like me wouldn't be the role model they were looking for. Maybe I was too gay, and maybe I was just too myself."
A turning point was when, in the face of depression and alienation, he made "the choice to be unafraid".
Rippon explained. "I made the choice to not care what others thought of who I was. I was going to be truly me. This was the biggest and most important decision I'd ever made: To live fearlessly. To take risks. To let go of my fear of what others may think of me, and to always keep learning.
"You will find that you will have your greatest success when you wear your scars proudly. Through my shortcomings and from my successes, I've learned that a champion is more than a medal. It's a mindset."
Rippon ended his speech with a message for young people. "Whether you are gay, straight, bi, trans or still on a journey of self-discovery; whether you are white, black, or any color in between, you are smarter than you think. You hold more strength than you may ever know.
"You are powerful. No matter where you have come from or where you are going to, there is someone who looks up to you, and they will find inspiration in your strength of just being yourself."
In February, Rippon became the first-ever openly gay American male skater to compete in the Winter Olympics, winning a bronze medal in Pyeongchang, South Korea.
He also made headlines when he criticised American Vice President Mike Pence as unsuitable to head up the American delegation to the Games due to the politician's anti-LGBTQ views.
"One word best describes Adam Rippon — fierce," said HRC President Chad Griffin. "By being out and proud, Adam is bringing LGBTQ visibility to a whole new level while capturing the hearts of millions around the world with his incredible talent and personality."