Caster Semenya scores at university graduation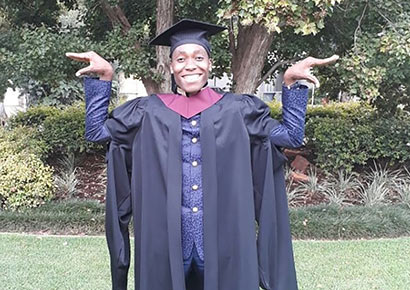 Caster Semenya has proved that she's not just a world-beating champion on the track, but can also achieve off it.
On Tuesday, the South African LGBTIQ Olympian graduated with her Diploma in Sports Science at North West University.
The 27-year-old athlete posted a picture of herself on campus wearing the traditional graduation cap and gown, along with a hashtag that read: "Mama I Made It".
Semenya's wife, Violet Raseboya, who attended the ceremony, also shared pictures of the occasion on Instagram, gushing about her spouse and her ongoing achievements.
"She builds and inspires others because she knows what it's like to be torn down," said Raseboya.
"Never give up in life no matter what. She is my inspiration. Mokgadi gotapa golema go ja lephala le Bashumi Congrats Wewe," she added.
In January 2017, Semenya followed her 2015 traditional marriage ceremony to Raseboya with a 'white wedding' that made global headlines.
Last week, Semenya broke the 35-year-old South African 1,000m record at the Athletix Grand Prix meeting in Pretoria. She will next compete in the 2018 Commonwealth Games next month at the Gold Coast in Australia.
Earlier this year Semenya was nominated as a finalist for the World Sportswoman of the Year in the 2018 Laureus Sports Awards. While she lost out to Serena Williams, it was nevertheless a huge honour.
All we can say is, amazing! But where does she find the time to do it all?