Is Love, Simon the next big gay film?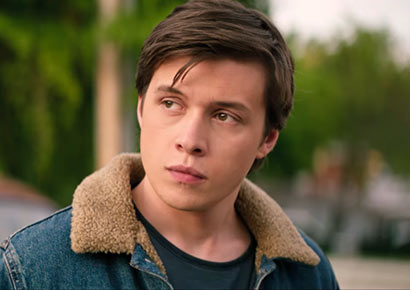 After the critical success of Moonlight, Call Me By Your Name and Inxeba, there's a new gay-themed film on the horizon: Love, Simon is aiming to capture the hearts of audiences around the world.
Love, Simon is a romantic comedy-drama film about gay middle class teen Simon Spierl, who's still in the closet to his friends and family.
His life is thrown into disarray when he not only falls head over heels for a mysterious stranger online, but also has to deal with a blackmailer threatening to out him to the entire school.
Directed by Greg Berlanti (The Broken Hearts Club, Arrow, The Flash), Love, Simon is based on the 2015 novel Simon vs. the Homo Sapiens Agenda, by Becky Albertalli.
What makes it stand out from recent mostly art-house, angst-ridden and tonally dark queer films that have received critical acclaim is its lighter approach and very suburban setting and concerns.
The cast is also a typically attractive (admittedly diverse) collection of appealing actors that are meant to charm film-goers. That includes its adorable and handsome 22-year-old star Nick Robinson as well as Josh Duhamel and Jennifer Garner, who play his parents.
Notably, Love, Simon is the first major-studio-backed romantic comedy with a gay lead character. It's thus Hollywood's first attempt to bring a gay romance and coming out story into the mainstream romcom genre.
"Everyone, myself included, can relate to Simon and his journey, and trying to find yourself and come to terms with yourself in a way that feels comfortable," said Robinson at a recent screening in LA.
Love, Simon is, according to reviews, rather formulaic and safe, but also funny and engaging. And perhaps that's okay. After all, there's something to be said about queer people being represented in a diverse range of productions and genres.
Guy Lodge writes for The Guardian that, "there's something strangely defiant – subversive, even – in [the film's] safeness: an assertion of mainstream identity that says LGBT storytelling has earned the right to be as naff and as conventional and as unconflicted as its fluffiest straight counterpart."
Vanity Fair said that, "Love, Simon is a charming gay studio movie that makes us hungry for more", The Atlantic that, "Love, Simon is groundbreakingly ordinary" and Screen Rant called it a "funny, heartfelt, and truly touching teen romantic comedy that instantly becomes a modern classic."
Love, Simon opens in the US this weekend and is set to debut in South African cinemas on 29 June. Watch the trailer below.