History made as LGBTQ flag flies over Pretoria City Hall (pics)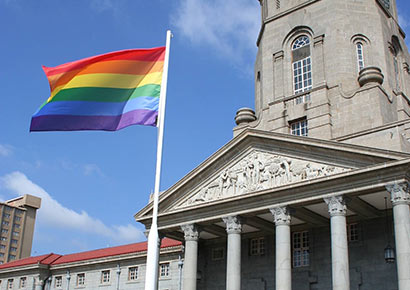 In what's believed to be a first for South Africa, the LGBTQ Pride rainbow flag has been officially flown by a city's government.
On Wednesday, a flag raising ceremony was held outside the Tshwane City Hall in Pretoria to mark Human Rights Day, which was commemorated across the country.
The initiative was organised by the Democratic Alliance (DA), which is the governing party in Tshwane.
In a statement, the DA said that the flag raising aimed to highlight the reality that "human rights for the LGBTQ community in Africa are often trampled upon, with LGBTQ community members being treated as second class citizens.
"Raising a flag in South Africa's capital speaks to more than the LGBTQ community's freedom, but also recognises and protects the rights of the LGBTQ community."
A festive group gathered at City Hall on Wednesday morning to watch the historic occasion, which was also attended by a number of DA officials. Among these was MP and DA Shadow Minister of Police Zakhele Mbhele, the first openly gay black MP in Africa.
Mbhele, who had the honour of raising the flag, told the crowd that the LGBTQ community was not asking for special rights but is "simply asking for the rights that everybody else enjoys and is entitled to in the Constitution".
He noted, however, that laws and rights on paper were not enough. "If we don't have state institutions that we can rely on, to uphold and enforce those rights, then our rights are greatly limited.
"If you are a victim of hate crime, you must have an effective police service that you can go to and open your case, and not be a victim of secondary victimisation where the police further harass you because you are gay, lesbian or transgender," said Mbhele.
Hendrik Baird, Station Manager of GaySA Radio, also spoke at the event and dedicated the flag raising to the late Simon Nkoli, who was instrumental in organising Africa's first Pride march and creating one of the first gay and lesbian organisations in the country.
"Many things have changed for me over the past thirty years," said Baird. Not only is my sexuality legal, I can marry a person of the same gender should I choose to. These days I, like many others and like you, I take our rights for granted."
He continued: "I want to take this moment to thank these people, to say thank you Simon, thank you to all who made this moment here today possible. And I want to urge you to make the effort to learn about our LGBTQ+ history, to understand the sacrifices people like Simon made, to honour their bravery."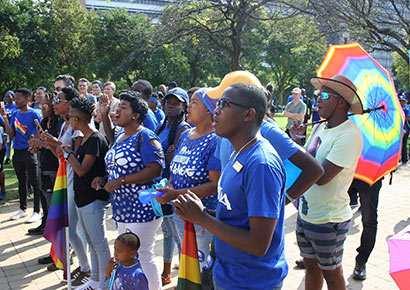 "Today we still have many problems. Too many lesbian women are raped and murdered. Too many gender non-conforming men are attacked, spat at, humiliated. A movie like Inxeba (The Wound) is banned for the most ridiculous of reasons. Make no mistake, there are those who want to take away our freedoms," said Baird.
"The Pride flag is a symbol of our diverse community, a worldwide symbol that says we are here, we are queer, get over it. And as we raise our flag today, let us be proud of the people who have gone before us, the people whose efforts have made this possible."
The city of Tshwane is at the forefront of openly supporting the LGBTQ community. Last year, the Mayor of Tshwane, Solly Msimanga, participated in the city's Pride Pride march and celebrations.