SA Rugby supports LGBTQ inclusivity on Human Rights Day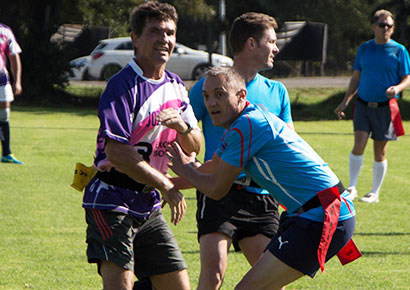 In a stand against homophobia in sport, the SA Rugby Union has thrown its weight behind the LGBTQ-affirming rugby tournament held in Johannesburg on Human Rights Day.
On Wednesday, Jozi Cats – South Africa's first gay and inclusive competitive rugby team – and the South African Human Rights Commission (SAHRC) hosted an inclusive tag rugby tournament at Diggers Rugby Club in Randburg.
The event aimed to raise awareness about inequality on and off the rugby field, educate against homophobia and discrimination based on sexual orientation, gender identity and expression, and advocate for acceptance and respect for human rights.
"SA Rugby whole-heartedly supports this initiative by the Jozi Cats and South African Human Rights Commission, and we would like to congratulate them on the initiative," said SA Rugby President, Mark Alexander, in a statement.
"Rugby is all-inclusive, and everyone participating in the game should be treated equally and should feel free to be themselves on and off the field, regardless of their gender, race and sexual orientation. There is no place for discrimination in the game."
Alexander added: "I would like to thank the Jozi Cats for the role they are playing in changing the face of the game and for their determination to show that there is a place for everyone in rugby."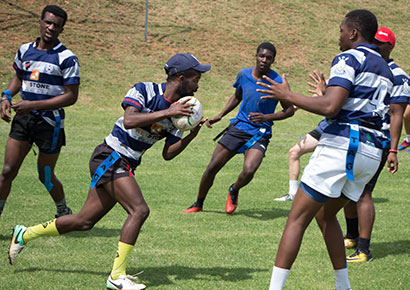 Jozi Cats Chairperson, Chris Verrijdt, noted that to date there have been no openly gay rugby players or officials in high level rugby in the country.
He said that homophobia was a reality in the sports world. Some Jozi Cats members, for example, had been referred to as "moffies" in the locker room. The club has also been on the receiving end of abusive comments on social media, including having its members described as "paedophiles" and being told that they should "get HIV".
Verrijdt said that SA Rugby's support was highly significant and showed that there is now an acknowledgment that there is a problem.
"The next step is to say, okay, here we are, now how can we help each other? How do we help you change this narrative around homophobia in rugby to not make it an issue anymore?"
Twelve teams from across Gauteng participated in the tournament to show their support for inclusivity and to challenge stereotypes in rugby. Members of the LGBTQ community, their families, friends and allies also came out to enjoy the event, which included stalls and food vendors.
For the first time in South Africa the new version of the rainbow flag, with additional brown and black stripes to show inclusion of people of colour, was raised along with the national flag and the Jozi Cats flag. Drag diva and former Idols SA contestant Shenay O'Brien wowed the crowd by singing the National Anthem.
The tournament was won by NFZ, who took home the trophy, a cash prize worth R5,000 and other gifts, followed by runners-up Fattis and Monnis.
"It was a great success," Verrijdt told Mambaonline about the event. "We were hoping for a great day for our communities to come out and enjoy a day of inclusive rugby in a safe space – and that's how it turned out. We had people arriving with their kids… It was a full spectrum of our communities getting together and having a jol."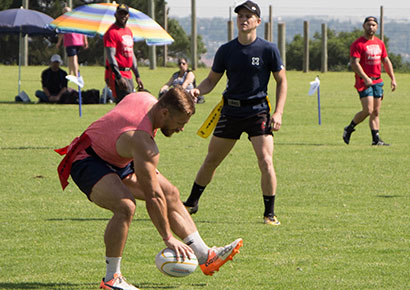 The cherry on the top for Jozi Cats was undoubtedly a video endorsement by South Africa's openly-gay Constitutional Court Justice, Edwin Cameron.
He said that in the context of continued discrimination and violence against the LGBTQ community in Africa, it was "with joy and pride that I commend what the Jozi Cats are doing, together with the South African Human Rights Commission.
"I'm so proud that this imaginative initiative is breaking down stereotypes, is carrying out joy, is emphasising and affirming our capacity as LGBTI people to be proud sports men and women," said Cameron.
He expressed hope that the initiative will "ripple out across our whole continent to affirm our identity as proud humans, our identity as proud Africans and our entitlement to be full citizens wherever we are in our continent."
*All pics by Cobus Benade