Pink Loerie & Mr Gay World announce new 2018 partners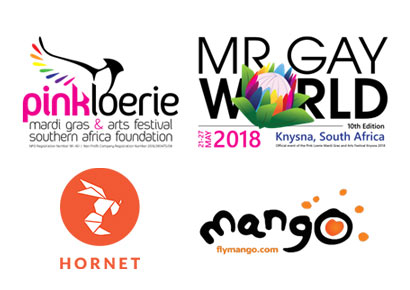 Pink Loerie and Mr Gay World 2018 have announced Mango as their airline partner and Hornet as a major sponsor for the combined events, taking place from 20 to 27 May in Knysna.
Hornet, one of the world's premier gay social networks, is an official partner to Mr Gay World and the Pink Loerie Mardi Gras and Arts Festival will be presented in association with Hornet.
Founded in 2011 with the mission to provide gay men the opportunity for meaningful connections, Hornet has grown to 25 million total users, creating a community that comes together around shared experience and common interests.
Hornet is number one in the key markets of France, Russia, Brazil, Turkey and Taiwan, and is consistently expanding its sizable user base in the United States.
"Mr. Gay World is an important global event that helps increase our community's visibility and build unity. Hornet is happy to help amplify this premier event," said Sean Howell, Hornet's president and co-founder.
The organisers say that as the official aviation partner, Mango is perfectly positioned to fly guests in and out of the neighbouring airport in George, on the picturesque coast of the Western Cape in South Africa.
Benediction Zubane, Head of Marketing at Mango, expressed his excitement at the prospect of hosting international delegates, contestants and judges on-board.
"As an innovative airline, we are always looking for new ways to connect with our guests. Since a lot of these travellers will be from countries around the world, we are keen to see how we compare to our global airline peers," said Zubane.
"We believe that Mango will stand out for a litany of reasons; topping the list are our various payment options, including a retail store card; as well as 20kgs of free checked baggage, and our perfectly positioned hotel and car hire partners. And above all our commitment to offering the best value for money on all our eight routes, including Zanzibar."
For a second time, Knysna will host Mr Gay World, held alongside the 18th Pink Loerie Festival, which will take place from Thursday 24 May to Sunday 27 May 2018. The crowning of Mr Gay World 2018 will be held on 26 May at the luxurious Villa Castollini in Knysna.
Tickets for these events can be found at www.webtickets.co.za. For travel packages and accommodation bookings please contact Herbie at MambaTours on hello@mambatours.com.
For more information, visit www.mrgayworld.com; www.pinkloeriefoundation.com; www.pinkloerie.co.za; hornet.com and www.flymango.com.