Bob Dylan, Kesha reimagine love songs for same-sex couples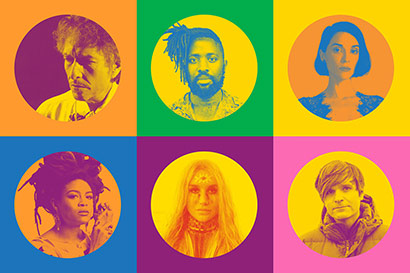 Artists including Bob Dylan and Kesha have released a unique album of reinterpreted love and wedding songs for the LGBTQ community.
Titled Universal Love, the album features six newly recorded versions of iconic love songs in which the traditional pronouns have been changed to the same sex as the person singing the song.
Dylan, for example, has re-recorded the classic She's Funny That Way (famously sung by the likes of Ella Fitzgerald, Diana Ross and Frank Sinatra) as He's Funny That Way.
Kesha changed Janis Joplin's I Need a Man to Love Me to I Need a Woman to Love Me, while St. Vincent performs And Then She Kissed Me (originally And Then He Kissed Me, by The Crystals in 1963).
Benjamin Gibbard of Death Cab for Cutie offers And I Love Him (originally And I Love Her), Kele Okereke of Bloc Party sings My Guy (My Girl), and Valerie June does Mad About The Girl (Mad About The Boy).
"The great thing about music is that it transcends all the barriers and boundaries, and goes right to peoples' hearts," St. Vincent told Reuters about the album. "And everyone has a heart."
The singer has previously refused to be boxed in when it comes to her sexuality, stating: "I believe in gender fluidity and sexual fluidity. I don't really identify as anything." Kesha has also said in the past: "I don't love just men. I love people. It's not about a gender."
Universal Love aims to, say the producers, "give same-sex couples a soundtrack for their own love stories".
The compilation album, which is available on streaming services, was produced by MGM Resorts in conjunction with global advertising agency McCann and will be distributed by Legacy Recordings, a division of Sony Music.
"We believe projects like this will help all of us reach a point where seeing the world through the lens of people who happen to be different from us becomes natural and commonplace," said Phyllis James, MGM Resorts' Chief Diversity & Corporate Social Responsibility Officer.
"It is an immense honor for MGM Resorts to spearhead this inspirational project which celebrates LGBTQ dimensions of the universal emotion of love."