Uganda | MPs vow to pass new anti-homosexuality law (Watch)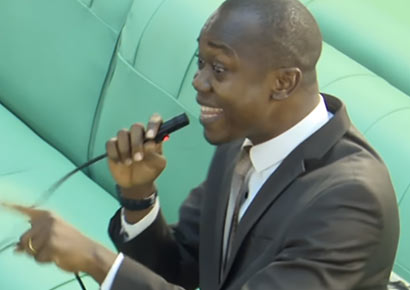 In an appalling display of hate and ignorance, MPs in Uganda's Parliament have lashed out at homosexuality as un-African, promising to pass a new anti-gay law.
Lawmakers this week approved a motion to pay tribute to Speaker of Parliament Rebecca Kadaga for "standing firm against homosexuality" at the recent 138th Inter-Parliamentary Union Assembly in Geneva.
At that gathering, Kadaga threated to walk out if European nations tried to pass an amendment to include LGBT people in a declaration on migrants and refugees.
Lauding her actions, MPs also took the opportunity to take turns to condemn same-sex love. "Homosexuality is unnatural in the human," insisted one.
"As long as you cannot give us children.. remember God has given us the responsibility to be the 'factory'…" asserted another MP.
One man ranted that homosexuality "is uncouth, it is unacceptable, it is something unthinkable, unwarranted, uncalled for, unAfrican!"
The lawmakers agreed that the country must pass a new anti-homosexuality law after the notorious 2013 version was annulled by the courts on a technicality.
"That bill should come back and we pass it because we must stand firm for who we are," explained an MP.
Another received applause when he said he personally planned to present a private member's bill because "we need the lord to guard our country… against this vice of homosexuality".
A woman threw her weight behind the call: "Let us not stop. Let us bring this law, and it is there and we pass it."
As the law was previously annulled because there were not enough lawmakers present when it was voted on, she also vowed to target any MPs who did not appear in Parliament to vote in favour of the proposed bill.
"This time round, nothing will go wrong," she said, warning that, "We will seek those [MPs] who are going to hide, and expose them."
Activist Edwin Sesange, from the African Equality Foundation, told Mambaonline that the MPs were "completely ignoring the historical facts of Uganda and pushing a hateful foreign agenda" on the nation.
"It is well documented that Britain forced anti-gay laws to Uganda, meaning it is homophobia which is un-African or un-Ugandan not homosexuality," he said.
"I appeal to them to start reclaiming the traditional values of Africa, like love for all and non-discrimination among others, which were eroded by the foreign discriminatory sodomy laws."