A blow to inequality! Trinidad & Tobago's gay ban ruled unconstitutional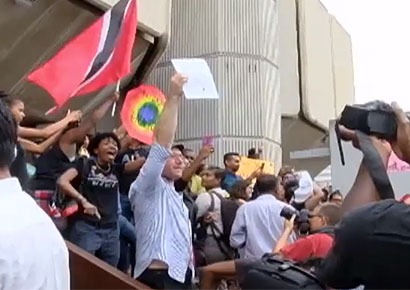 In a huge victory for Trinidad and Tobago's LGBTQ community, the nation's High Court has ruled that the criminalisation of consensual adult same-sex activity is unconstitutional.
In his groundbreaking judgment, Judge Devindra Rampersad said:
"The court declares that sections 13 and 16 of the [Sexual Offences Act] are unconstitutional, illegal, null, void, invalid and of no effect to the extent that these laws criminalise any acts constituting consensual sexual conduct between adults."
The ruling is in response to a lawsuit filed by LGBTQ advocate Jason Jones in March 2017, challenging the two-island Caribbean country's ban on homosexuality, known as the "buggery laws".
Judge Rampersad ruled: "This conclusion is not an assessment or denial of the religious beliefs of anyone. This court is not qualified to do so. However, this conclusion is a recognition that the beliefs of some, by definition, is not the belief of all and, in the Republic of Trinidad and Tobago, all are protected, under the Constitution."
Members of the LGBTQ community broke out in celebration outside the Hall of Justice in Port of Spain after the court's decision. Speaking to reporters, an ecstatic Jones said: "The injustice of inequality can no longer be tolerated."
Another emotional activist told CNC3: "This is for all the parents, all the people who have committed suicide because they felt they couldn't live in this society. This for all those who died to make this possible. This is your day!"
The laws will remain on the statute books for now. The judge has called for submissions from both Jones' and the government's lawyers on whether the unconstitutional provisions should be struck down in their entirety. Hearings on the revisions are scheduled to take place in July.
The Minister in the Office of the Prime Minister Stuart Young has sadly announced the government's intention to appeal the ruling.
Under the penal code, the maximum punishment for "buggery" is 25 years in prison, although this has rarely been enforced in recent years.
The anti-gay laws were first introduced in Trinidad and Tobago during colonial times, but they were reworked by parliament in 1986 and the penalties made harsher in 2000.