Jozi | Blvck Queer 'Vibrate Higher' social festival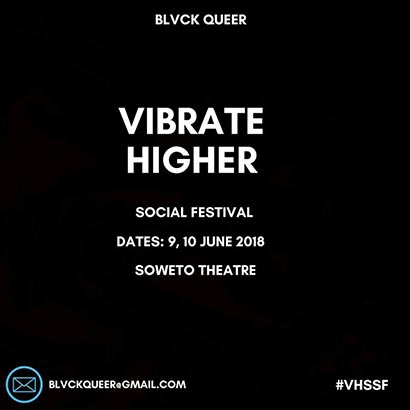 Blvck Queer is hosting a two-day festival in June called 'Vibrate Higher' – A space for growth, inspiration and entertainment.
The event will include a host of activities:
• Speed-dating
• Market
• Exhibition ft. Khayalethu Witbooi
• Live music
• Performance art
The festival aims to encourage and cultivate the ground for entrepreneurs, artists, youth and women to come together, inspire one another, entertain, build networks and share wealth in Soweto.
"We believe confidence is a tool that can create a positive impact in the world," say the organisers. "We're inviting you to vibrate higher with us and come surround yourself with the great thinkers of today."
Vibrate Higher will take place on 9 and 10 June at the Soweto Theatre. More info, including the line-up, will be released soon.
Tickets are available from Quicket.