South Africa abuzz over interracial gay TV wedding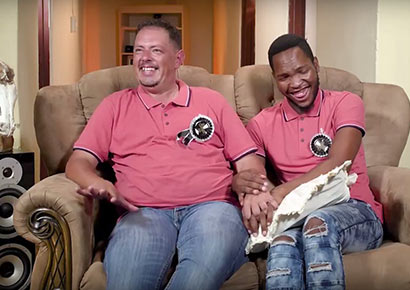 The latest episode of Our Perfect Wedding, featuring an interracial gay couple and a polygamous bisexual pastor, has both charmed and outraged South Africans.
On Sunday night's Mzansi Magic reality show, viewers were introduced to Simphiwe, 26, and Riaan, 43, an engaged couple who first met on Facebook.
"One day we were chatting and chatting and I just decided, 'Well that's it, I want to meet this guy'," said Riaan. "And I drove all the way… and met up in Witbank. He just grabbed my attention immediately. And from there on it was just a question of 'wow'."
Simphiwe's grandmother gushed over the relationship and its impact on him. "Since he's been with Riaan his life has changed drastically," she said. She also gave the emotional couple her blessing to marry.
Sadly, Simphiwe revealed that Riaan's family had not accepted him because he is a black man. "That's the only problem, because they know that Rian is gay…"
Simphiwe also said that he had faced questions about the race and age of his partner. "People would insult me, asking me what I'm doing with this old white man. They tried to separate us but we survived it all."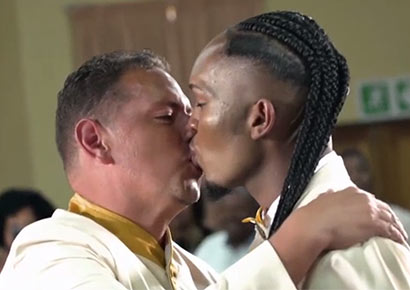 Riaan added: "I don't care what people are saying. It's time that they realise that there is true love and interracial love does exit."
In the episode, viewers also got to meet Pastor Kolobe, who married the couple. He told the surprised guests at the wedding that he is in a polygamist marriage to a man and a woman. "I've built houses for both of them," said the cleric proudly, also revealing that he had 20 children. "Everyone lives their lives as they see fit," he added.
The pastor was lambasted on social media for quoting a Bible verse, 2 Samuel 26:1, which does not exist. It was later pointed out that he was probably referring to 2 Samuel 1 vs 26. which quotes King David: "I grieve for you, Jonathan my brother; you were very dear to me. Your love for me was wonderful, more wonderful than that of women."
The loving couple married wearing matching white suits with gold trimming. While the day was an emotional, memorable and happy one, Riaan's family did not attend the wedding.
Social media reacted to the episode with a mix of delight, shock, disbelief and homophobic disgust. It became a trending topic on Twitter, with many even calling for Pastor Kolobe to be given his own reality show.
If the Pastor misquoted the Scriptures its likely that he miscounted the number of children he has…??????

"I have 20 children he said"#OurPerfectWedding pic.twitter.com/xOEcp6Bclo

If the Pastor misquoted the Scriptures its likely that he miscounted the number of children he has…??????

"I have 20 children he said"#OurPerfectWedding pic.twitter.com/xOEcp6Bclo

If the Pastor misquoted the Scriptures its likely that he miscounted the number of children he has…??????

"I have 20 children he said"#OurPerfectWedding pic.twitter.com/xOEcp6Bclo

— Tshepo Segwapa (@tshepo_segwapa) April 23, 2018

I'm still confused even now. We are reaching the end indeed
The pastor really shocked me, it was too much to take #OurPerfectWedding

— salvadora mulaudzi (@salvadoramulau2) April 23, 2018

eeeeh!!!!! Am unable to can…….??

i have seen it all.
#Ourperfectwedding pic.twitter.com/vgqIbRzjjt

— Simphiwe Ngubs (@deebonkerscatt2) April 23, 2018

It's really not hard to see that this pastor is not legit.
This is not Christian at all!#Ourperfectwedding pic.twitter.com/446TsCc1lL

— #DearGirlfriend (@LebbSimons) April 23, 2018

I just want to unsee last night's episode of #OurPerfectWedding ?? is that too much to ask for? ??

— Elona Kukulela (@Elona_lona96) April 23, 2018

So we still caught on this moment and Nomsa needs a SAfta just for this episode!!! Is the pastor with two guys or a guy and a girl!? Yesterday's pastor needs his own show!! #OurPerfectWedding #OPW pic.twitter.com/ie4m7sV1j3

— Kelvin Tk (@KelvinTk1) April 23, 2018

I seriously need more of that pastor… Bisexual pastor who marries both, aowa South Africa is too much!#OurPerfectWedding pic.twitter.com/Nfngw8FgHO

— Hokwe (@Mthethwa_Sifiso) April 23, 2018