Urgent! Cope needs your help to revise the Civil Union Act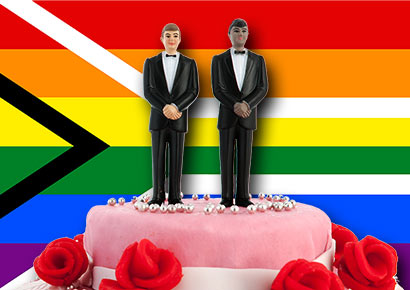 The Congress of the People is calling on LGBTQ individuals and allies for their support in ending the discrimination faced by many same-sex couples in South Africa.
In January, Cope MP Deidre Carter tabled the Civil Union Amendment Bill in Parliament to repeal the provision in the law allowing Home Affairs marriage officers to refuse to marry same-sex couples.
The clause, Section 6 of the Civil Union Act, has long been identified by LGBTQ activists as an unconstitutional and discriminatory flaw in the law that legalised same-sex marriage in South Africa in 2006.
It allows marriage officers employed by the state to refuse to solemnise civil unions if they personally object to same-sex relationships on the grounds of their "conscience, religion [or] belief".
Cope's Bill to amend the Civil Union Act and repeal Section 6 was published in the Government Gazette on 1 March. Cope is now once again asking for submissions on the Bill, before the deadline of 28 April 2018.
"To date we have not received enough submissions," said Roché Kester, Cope Media Correspondent in Parliament. "We therefore call for all LGBTIQA+ and gender organisations to assist in this matter."
She further called for feedback from LGBTIQ individuals and "allies that believe in the cause of equality, equal rights and non discrimination".
"If there are couples that maybe have experienced discrimination from Home Affairs, that would also help," Kester explained. "Anybody from the public can give feedback. It doesn't have to be an organisation."
Submissions do not have to be in a very formal, elaborate or specific format, she noted. They can be as simple as an email stating clear support for the Civil Union Amendment Bill, with two or three reasons why.
"These can be maybe because you believe in equality and you don't feel like there should be discrimination against LGBTQ individuals, that you feel that everybody has the right to love who they want to love," said Kester. Same-sex couples who have been victims of Home Affairs discrimination are also urged to submit their personal stories.
Aside from the discriminatory aspects of Section 6 of the Civil Union Act and its marginalisation of LGBTQ community, "it also affects your human dignity" argued Kester. "People are deciding on your behalf who you should marry. They are dictating your fate."
In July last year, the then-Minister of Home Affairs, Hlengiwe Mkhize, said that almost 40% of marriage officers were exempted from performing civil union marriages. In a September 2016 report, Mambaonline found that only 26% of branches in the country offered the service.
We have for years reported on the humiliating and degrading treatment received by couples who have been turned away from Home Affairs offices that have no officials willing to marry them. Despite calls for it to champion the revision of the law to stop this from happening, the government has refused to act.
To submit feedback and support for the Bill to amend the Civil Union Act you can email speaker@parliament.gov.za and copy in dcarter@parliament.gov.za / dcarter@copesa.org.za. Representations can also be delivered to the Speaker, New Assembly Building, Parliament Street, Cape Town or mailed to the Speaker, P O Box 15, Cape Town 8000.
You can read / download the Civil Union Amendment Bill here.