Johannesburg Pride partners with Pink Loerie & Mr Gay World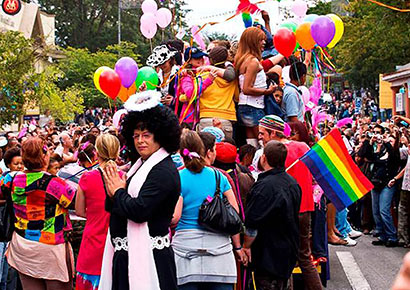 Johannesburg Pride has announced a partnership with the Pink Loerie Mardi Gras and Arts Festival Southern Africa Foundation (NPO) and Mr Gay World™.
"The intention for this partnership is to formulate a cohesive working relationship to better serve the LGBT+ME community," said Kaye Ally of Johannesburg Pride in a statement.
The term "LGBT+ME" was introduced as part of Johannesburg Pride's 2017 campaign to signify inclusion and allow individuals "a space to feel secure within which ever form of chosen identification".
Ally said that the new partnership will ensure that "the LGBT voice of South Africa is louder, stronger and more visible. The long term intention is to improve the reach of our community and facilitate better social integration."
The first leg of the partnership will see both teams assisting at the Pink Loerie Mardi Gras and Arts Festival 2018 and the Mr Gay World 2018 Knysna South Africa event, to be held at the end of May in Knysna.
The next step will be a collaboration at the 29th Annual Johannesburg Pride and associated events. Johannesburg Pride will be a four day event this year. All the details will be revealed at the Pink Loerie Mardi Gras and Arts Festival 2018.
"Our joint message to the LGBT+ME community is a firm 'we heard you. We are fostering closer working relationships with the aim of enhancing the development of the nationwide LGBT+ME community," concluded Ally.
Mr Gay World 2018, held alongside the 18th Pink Loerie Festival, will take place from Thursday 24 May to Sunday 27 May 2018. The crowning of Mr Gay World 2018 will be held on 26 May at the luxurious Villa Castollini in Knysna. (Click here to see all the contestants.)
Tickets for these events can be found at www.webtickets.co.za. For travel packages and accommodation bookings please contact Herbie at MambaTours on hello@mambatours.com.