Joburg | Dialogue on religious and media narratives on queer people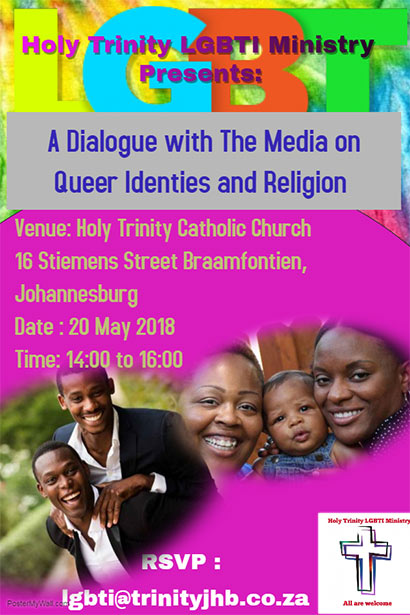 The Holy Trinity LGBTIQ Ministry in Johannesburg will host a dialogue with the media and religious leaders on "Balancing the Religious and Media Narrative on Queer People" on 20 May 2018.
Reporting on sexual orientation, gender identity and gender expression (SOGIE), or what we commonly refer to as the LGBTIQ (lesbian, gay, bisexual, transgender, intersex or queer) community is a continuous struggle for the South African media.
Attitudes that are as a result of various entrenched beliefs, including religion often cripple the sensitivity and ability of journalists to cover LGBTIQ people and their issues in a sensible and responsible manner.
Often, religious leaders use the media to make hateful and harmful statements about the community without being challenged by journalists. This is biased and unbalanced reporting. But ethical and sensitive coverage of the LGBTIQ community is both possible and necessary.
The dialogue will bring together media personnel, religious leaders and the LGBTIQ community to discuss the following:
• The role of religion in society and how that extends to the LGBTIQ community. Topics that will be covered here are:
– Are religious leaders fulfilling their role where LGBTIQ people are concerned?
– How is the use of religious texts impacting negatively in LGBTIQ people?
• The role of the media in society and how that extends to the LGBTIQ community. This will cover topics such as:
– Is the media fulfilling its role in covering LGBTIQ people and their issues?
– Do the media cover members of the community accurately, fairly and with sensitivity?
– How can the media improve its coverage and portrayal of the community?
The dialogue aims to help media personnel provide accurate information in a responsible and sensitive manner about LGBTIQ people, based on the principle of non-bias. It also aims to help build healthy relationships between religious leaders and LGBTIQ people who are often members of their denominations, based on the principle of being non-judgmental.
The dialogue will be held on Sunday, the 20th of May 2018 from 14h00 – 16h00 at the Holy Trinity Catholic Church (16 Stiemens St, Braamfontein, Johannesburg). To RSVP please email lgbti@trinityjhb.co.za.