Experiencing Mr Gay World™ 2018 in Knysna, South Africa made easy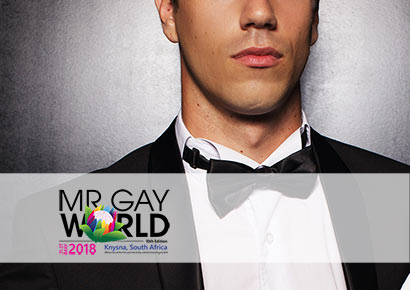 If you've been thinking of attending the Mr Gay World™ 2018 contest in spectacular Knysna, South Africa this May, your dreams are now that much closer to reality.
Mr Gay World™ has teamed up with LGBTQ travel company Mamba Tours to offer international and South African visitors an official one-stop service to experience the event, taking place from 20 to 27 May, 2018, and the area's many attractions.
Around 20 stunning men from across the globe are set to descend on Knysna, one of South Africa's most beautiful locations, to represent their nations in competing for the coveted international crown. They'll be joined by thousand of revellers who will also celebrate the Pink Loerie Mardi Gras and Arts Festival, Africa's largest LGBTQ festival, taking place in Knysna at the same time as Mr Gay World™ 2018.
In addition to the Mr Gay World™ VIP dinner and grand finale, the Pink Loerie Mardi Gras and Arts Festival will host a variety of LGBTQ events, including parties, art exhibitions, drag shows and much more. Monies raised go towards local charities.
The Mamba Tours team can organise all travel arrangements to attend Mr Gay World™ 2018 and the Pink Loerie Festival, including flights, accommodation, tickets to official events, as well as other leisure and adventure activities in the area. They have also put together a selection of packages for local visitors to suit all pockets.
"These days we can do much ourselves online, but Mamba Tours will take the stress, confusion and wasted time out of arranging a trip like this," says Mr Gay World™ Chairperson of the Board Igor Scheurkogel. "They also have an intimate knowledge of our events, Knysna and the region's best kept secrets."
Mamba Tours specialises in helping global LGBTQ travellers experience the best of Southern Africa and the Indian Ocean Islands, safely and without fuss. Importantly, they also ensure that all suppliers, service providers and accommodation are LGBTQ affirming.
"We're honoured to be part of bringing Mr Gay World™ 2018 back to Africa," says Mamba Tours Marketing Director Luiz De Barros. "We're especially excited to give international visitors the opportunity to enjoy the best of Knysna and the region; a truly incredible destination that they won't ever forget. Mamba Tours is also proud to play a part in the event's efforts to bolster Knysna and its people after the devastating fires that struck the town last year," adds De Barros.
The town of Knysna is located on the shores of a unique lagoon, along the world-famous Western Cape coastline in the Garden Route. The area boasts spectacular scenery, including beaches, river estuaries, mountains and forests. Great cuisine, luxury accommodation, hiking, kayaking, yacht cruises, swimming with sharks and jumping from the highest bungee spot in the world, are just some of the options in the area.
To find out how you can make your Mr Gay World™ 2018 experience a reality, contact Mamba Tours on hello@mambatours.com / +27 (11) 568 1640 / +27 73 142 8066.