LGBTIQ+ rainbow flag to fly permanently in Midvaal Municipality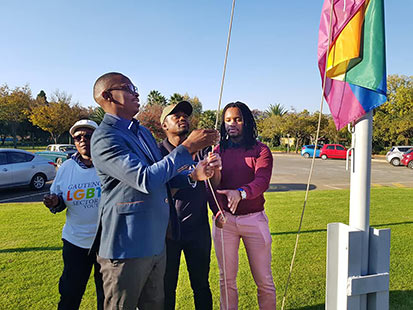 Executive Mayor Bongani Baloyi has led the Midvaal Municipality in signing a pledge to support and safeguard the rights and freedoms of the LGBTIQ+ community living in the area.
The pledge was made during a Freedom Day commemoration event on 26 April, which was aimed at creating awareness about the plight of the LGBTIQ+ community and de-stigmatising homosexuality.
The pledge signing was followed by the hoisting of the LGBTIQ+ rainbow flag, which will stand permanently alongside the African Union, South African and Midvaal flags at the municipal head offices in Meyerton.
The event was attended by members of the Midvaal council, municipal employees, representatives from the LGBTIQA+ community and provincial health officials.
"This is our pledge to say that not in our name will the rights of the LGBTIQ+ community be trampled on while we remain silent," said Baloyi.
"We are also taking responsibility as the government in Midvaal, to say that we have failed the LGBTIQA+ community and need to take decisive steps to self-correct, starting with ensuring an environment where they are able to fully access the same rights and freedoms as others."
Mayor Baloyi was joined by civil rights organisation Access Chapter 2 in signing the pledge, which makes a commitment to: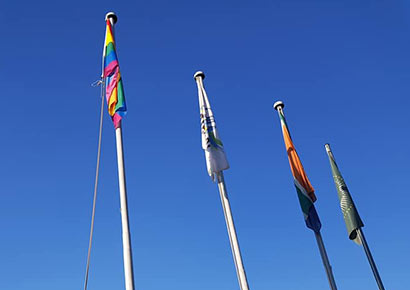 • Support the cause of unity in diversity
• Respect the rights, choices and decisions of others
• Maintain communities to which everyone can safely belong
• Encourage an environment where all people can live, work and play in harmony
• Promote communities where everyone can participate freely in community activities
• Encourage people to embrace their creativity, talents and ideas
The municipality said it has begun engagements with civil rights organisations and other stakeholders, aimed at establishing programmes and initiatives that will ensure LGBTIQ+ persons living within the municipality are afforded the freedom to co-exist and freely express themselves in a safe and non-discriminatory community.
Located in Gauteng, the Midvaal municipality sits halfway between Johannesburg and East Rand and the Vaal and Vereeniging areas. It has been dubbed the fastest growing municipality in Gauteng due to its rapid economic growth.
Midvaal's welcome initiative follows the flying of the rainbow flag at the Tshwane City Hall in Pretoria in March to mark Human Rights Day.