PrideTV Highlight: Leather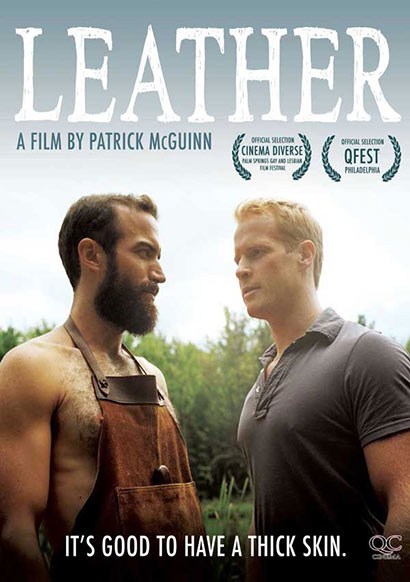 Chris Graham (as 'Birch') and Andrew Glaszek (as 'Andrew') are the two main protagonists in this movie about a young man living in the Catskill Mountains who reunites with his childhood friend from the city.
Leather ("It's good to have a thick skin"), showcases aspects of comedy, drama and romance all in one compelling LGBTQI film; there's more than enough to keep the PrideTV streamer entertained with its stunning sceneries.
The plot is briefly as follows: A young man lives in a remote cottage in the Catskills with an older man who has an estranged, gay son. Both men make items from leather. After the older man passes away, Birch reunites with his childhood friend from the city, Andrew.
This movie has some great reviews. One reviewer hit the nail on the head, referencing the directing quality, when he stated: "What makes the movie stand out is its deft, light directorial touches. Anyone can shoot two hot guys circling and then entwining each other. But it takes a surer hand to make you care about those two men."
A reviewer of an unrelated film wrote: "Why can't US film makers give us a gay romance film in which romantic emotions and physical acts come across in such a way that we, the audience, can SEE and FEEL the passion….the tenderness….the closeness between two men?" That's exactly what Leather does.
The film community seems to agree with the above sentiment as accolades for Leather include "Official Selection: QFest" and "Official Selection: Cinema Diverse".
Leather can now immediately be streamed direct from www.PrideTV.co.za. Enjoy this ad-free feast from Africa's LGBTQI VOD leader! Watch the trailer here.