Ghanaian newspaper warns of "international conspiracy" to push LGBT rights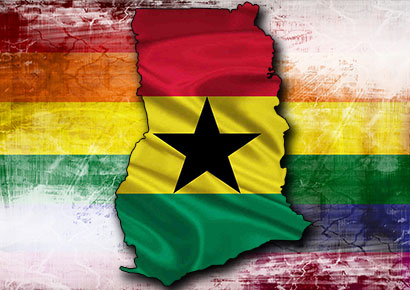 In a shockingly homophobic editorial, the government-owned Ghanaian Times has warned that LGBT rights are neocolonialist "foreign values" being imposed on Ghana.
In the editorial, published last week, the newspaper said it was aware of "the covert and overt attempts to impose on Ghana certain alien and unacceptable values that are not in tune with our socio-cultural values and religious beliefs." It explained that, "we are referring to the ferocious attempt to influence Ghana to change our laws to contain the rights of Lesbian, Gay, Bisexual and Transgender (LGBT) people."
The newspaper views this as an "international conspiracy to impose foreign bisexual orientation into our social and cultural values was given prominence at the just ended Commonwealth Heads of Government Summit in London."
At the event, British Prime Minister Theresa May apologised for her nation's role in introducing anti-gay laws in many of its former colonies, and called for these laws to be repealed.
Describing the push for LGBT equality as a "tendency toward neocolonialism," the newspaper said that while it respects the "fundamental human rights of every human being"… "we are equally against LGBT rights and we at the Ghanaian Times will strongly support moves to reject the imposition of any foreign values on our country."
The Times went on to applaud President Nana Akufo-Addo, lawmakers and advocacy groups who have stated their opposition to LGBT equality.
"We must all unite to keep at bay this ferocious attempt to debase our cultural values. Insofar as a tiny minority has the right to pursue its own 'physiological disabilities', it also behooves us to protect the sanctity of divinity and the decency of the human race," said the newspaper.
Consensual male homosexuality, described as "unnatural carnal knowledge", is illegal in Ghana, with penalties including three years' imprisonment.
According to local reports, MPs in Ghana's Parliament earlier this week rejected any possibility of decriminalising homosexuality, stating that it is "a serious health issue" and that homosexuals should seek psychiatric treatment or counselling from imams and pastors.
Earlier, the Speaker of Parliament, Professor Aaron Michael Oquaye, said he would rather resign than preside over a parliament that was prepared to to legalise homosexuality.
In December last year, President Nana Akufo-Addo said in an Al Jazeera interview that there was little support for LGBT rights in his country but in time, "I think that it is something that is bound to happen."
A January 2018 Human Rights Watch report highlighted the devastating scale of discrimination and abuse experienced by LGBT people in Ghana, both in public and in family settings. It found that violence and discrimination against LGBT people are common.