Whitney Houston show returns to Johannesburg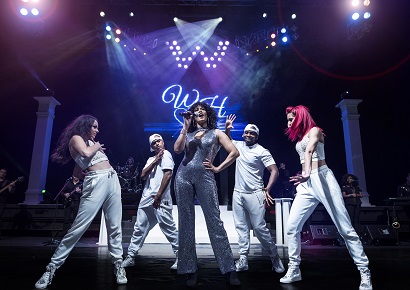 South African singing sensation Belinda Davids returns to South Africa for a Johannesburg run of The Greatest Love of All: The Whitney Houston Show, at Emperors Palace Casino from 21 June to 8 July 2018.
The production received a well-deserved standing ovation at New York's highly respected Apollo Theatre after a mesmerising performance of I Will Always Love You on the US hit TV show, Showtime at The Apollo.
Davids' performance at the theatre late last year, which captivated US radio and TV personality Steve Harvey on stage, has been viewed over 10 million times on Facebook to date – cementing Davids as a true global musical icon.
Launching just over five years ago and leaving hype in its wake ever since, The Greatest Love Of All: The Whitney Houston Show has already achieved great international successes, opening with a sold-out six week season in Johannesburg in 2013 and going on to perform to audiences across the UK, Europe, Australia, New Zealand, South Africa, Dubai and North America.
Prompted into auditioning last-minute by a friend, the Port Elizabeth-born Davids, who now resides in Cape Town, was one of almost 15 000 singers who tried-out for the demanding role, but Director John Van Grinsven knew immediately that she was the star he was looking for:
"Belinda's voice is astounding on its own, but when you hear her sing Whitney songs in full voice, and with such personal affection, it's an ethereal experience," say Van Grinsven.
The upcoming season at Emperors Palace Casino will be the second Johannesburg visit for the show. Fans can look forward to updates to the musical production, including new choreography and costumes this time around.
Davids' staggering voice will be serenading all of Whitney's greatest ballads and pop hits, including I Will Always Love You, I'm Every Woman, One Moment in Time, Run to You, Saving All My Love, Queen of the Night, I Wanna Dance With Somebody and many more.
"I want people to come and remember Whitney when she was at the top of her game and when she was fabulous," says Davids, who will be accompanied on stage by a full live band and dancers, including professional dancer and acrobat, Nathan Adriaanse and Johannesburg-born dancer, Golda Rabe.
The Greatest Love of All: The Whitney Houston Show runs from 21 June to 8 July 2018. Tickets for the show can be purchased via Computicket or via Checkers and Shoprite retail stores, countrywide.