Jozi club Babylon responds to opening night complaints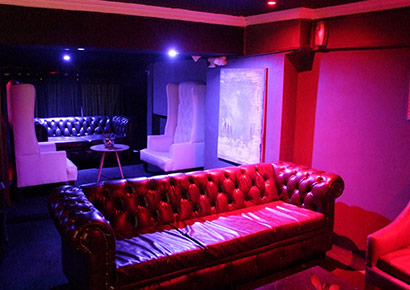 Bruce Walker, the promoter behind the new Babylon nightclub in Fourways, has spoken out after a number of damning reviews about the venue's recent opening were posted on its Facebook page.
Mambaonline was contacted by Kaye Ally, head of Johannesburg Pride, who complained that the issues regarding the event's opening had been ignored by the LGBT media.
She cited a number of comments by angry, disappointed and frustrated individuals who said they'd attended the opening. They claimed that there had been little security, that the venue was incomplete, and that the bar service had been slow. At least one individual said she'd been robbed of her purse.
Ally alleged on her Facebook page that the opening had "put the [sic] every person that attended at risk." She also told Mambaonline that the event was a "disaster", stating that, "the LGBT+ community was put at risk at a premises that was a construction site with free entrance without security."
Walker, who has been putting on LGBT parties and events for decades, acknowledged to Mambaonline that there had been some serious hiccups on the opening night and apologised to the patrons affected. The popular venue was based in Centurion for a number of years before closing down and reopening in Fourways.
"We were expecting around 400 to 450 people to come, based on the response on Facebook and Instagram," Walker said. "We had around 700 people come on the night and for that number we were totally unprepared and we apologise for this. We should have closed the doors," he admitted.
Walker said that the venue had hired nine barmen for the night, as well as four security guards and seven car guards. "We will not be caught like this again and despite [the issues], a lot of people did have a good time," he added.
As for claims that the venue was unfinished or a construction site, Walker insisted it was in fact complete, other than the refurbishment of the pool area which was not open to the public. "The venue next door is building a new show room and is NOT part of us and we did put security tape around their entrance," he said,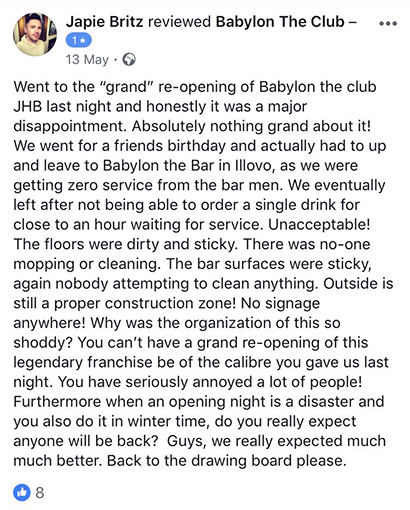 Walker denied knowledge of any muggings. "If people were mugged why did they not come to the office? We would have called the police and made a police report and we could have looked for the people that mugged them. If no police report was made or if they did not call police how can we say this happened?"
Ally also alleged that Babylon was misrepresenting its events and implying that it was raising funds for Johannesburg Pride, in part because it is now based in Johannesburg.
She quoted the venue's Facebook page's "our story" section, which reads: "The only time there will be a cover charge is when there is a special event or a fund raiser for Pride or an international DJ."
Walker dismissed this, and pointed out that the opening night was free and was not a fundraising event. He insisted that other events at the venue that were aimed at raising funds clearly indicated that the money was intended for Pretoria Pride, of which he is one of the organisers.
"This is total slander," he insisted. "I have never said anywhere that we were having a fundraising event for Johanessburg Pride."
He went on to urge Ally to make her financials for Johannesburg Pride public. After sending those of Pretoria Pride to Mambaonline, he said: "I make Pretoria Pride's income and expenditure public every year, and as you can see by last year's figures, we ran at a loss."
As for the opening night problems, Walker said they had been addressed and would not happen again.