Pride TV Highlight: Crush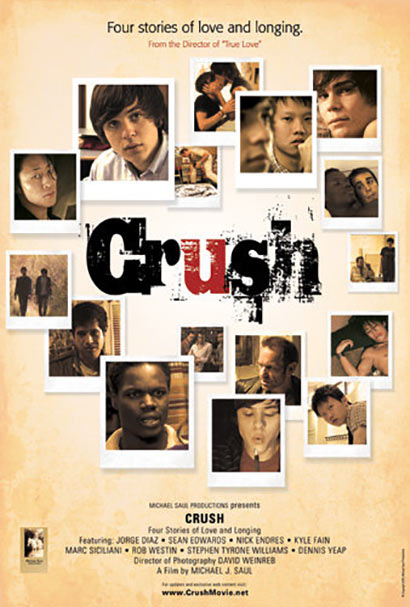 Crush, a four-part anthology by director Michael J. Saul, is of all the movies thus far featured on PrideTV – one work that most accurately explores the full range of emotions and colours encountered in typical LGBTQI relationships.
We don't have to tell you that a hallmark of finding one's significant gay other is the fact you both have to contend with a plethora of internal and external influences on your relationship that have little to do with the actual interaction between you.
This alone makes LGBTQI relationships extremely tricky to navigate and we're pleased Crush succeeds in some way in exploring these multi-layered complexities.
Simply because of the complex issues this move tackles, we believe it deserves a somewhat higher rating than the score of 6.2 out of ten on the IMDb database it has so far achieved. After his directing debut with True Love,
Saul ostensibly took some five years to put together this ensemble of four individual short films about same-sex love. There is no connection between any of these films and even the four casts are totally different.
These self-contained stories all deal with familiar themes centred on the human emotion of 'longing'. As we see in these short films, one may long for the partner away on active service or even for the (straight) friend sitting right beside you who is out of bounds.
In "Don't Ask" a devoted couple is forced to confront their feelings regarding love and war when one of them begins to question his military service. The obsessions of an eager teen-ager lead him into the arms of a fellow classmate who hides a dangerous but erotic secret in "Bloodline".
In "Strokes", despise turns to affection as a young student learns some difficult life lessons when he accepts an internship with a surly, world-famous artist. And lastly, "Breathe" explores the true meaning of having a crush.
With the weekend coming up, Crush, with its four separate plots by Michael J. Saul, is an obvious choice for winter VOD viewing. Just be careful who you watch it with – you may be sending inadvertent messages!
Crush can now immediately be streamed direct from www.PrideTV.co.za. Enjoy this ad-free feast from Africa's LGBTQI VOD leader! Watch the trailer here.