Women and the gender non-conforming urged to participate in national shutdown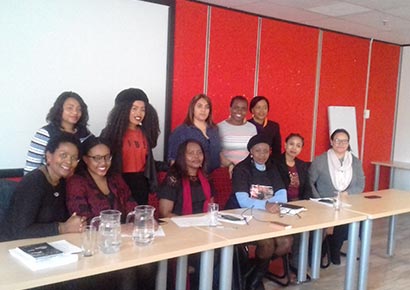 The Total Shutdown Intersectional Movement and the Soul City Institute are calling on all women and gender non-conforming (GNC) people throughout South Africa to join a national mass march against gender-based violence on 1 August 2018.
Soul City's Advocacy Manager, Matokgo Makutwane, said it is time for all women and GNC people to take action and bring awareness to gender-based violence (GBV). "We are scared in public and private places… we cannot go on like this," Makutwane said, speaking at a media briefing held at the Soul City offices in Johannesburg, on Thursday afternoon.
With 50% of murdered women being killed by their intimate partners and one in three women being victims of assault and violence, the Soul City Institute said that halting business activity next week Wednesday "will force government to deal with the siege."
Brenda Madumise, from the Total Shutdown Movement Campaign, argued that despite many male South Africans, in particular, celebrating Women's Day in August, there is really nothing to celebrate. "What is happy about the day when women are [being] raped killed and assaulted?" she asked. Madumise said the march will remind the greater public that the scourge of violence in the country has increased and demands urgent attention. "This is to remind South Africa that women are enough. We are now taking control of our destiny and how we should protest."
The main march will happen in Gauteng and attendees will be marching to the Union Buildings in Pretoria. The movement campaign has confirmed that route permits are in place and details will be communicated to the public in due time (see Facebook post below). South Africans from all over the country are also encouraged to take to the streets in their areas on this day.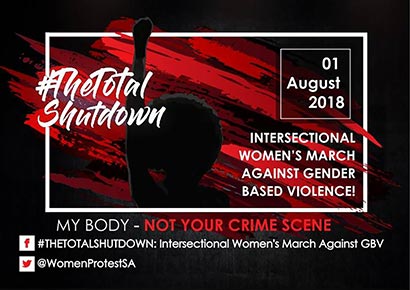 A set of 24 demands were drafted and submitted, with specific deadlines, to the state, urging it to engage in an integrated approach to fight against GBV. The demands include contributions from the lesbian and transgender communities.
The demands call for a "strong message" from the president, Cyril Ramaphosa, to acknowledge the alarmingly increasing rate of GBV tolerated in society, and a commitment to never appoint any individual to office who has been implicated in GBV.
The memorandum also insists on sensitising and training members of the judiciary on GBV, and the provision of shelters and interim housing to enable women to escape abusive relationships.
The planned mass action has received international support from neighbouring countries such as Botswana, Lesotho and Swaziland, who will be planning similar marches on the same day as a show of solidarity.
Men and those who cannot directly participate in the march can still actively show solidarity by staying away from work on the day of the march to avoid the continuation of business, said the organisers.
More information on the mass shutdown will be communicated on the Total Shutdown: Intersectional Women's March Against GBV Facebook Group and on the @WomenProtestSA Twitter account.