JHB: A safe space event for masculine presenting lesbians.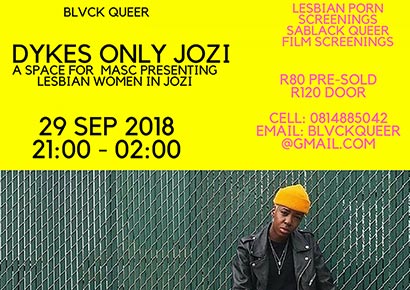 While (black) queer bodies struggle everyday to find spaces where they are meant to feel safe, some are slowly but surely taking the initiative of creating those safe spaces for themselves.
The Dykes Only Jozi event is a new space that helps masculine presenting women to reclaim their power.
The event concept is curated by a prominent storyteller and business woman within South Africa's LGBTQ community, Obie Mavuso, through her entertainment company Blvck Queer.
As a masculine black woman, Mavuso said she saw a lack of safe spaces for women like herself to express themselves without fear. She argues that masculine presenting lesbians are often demonised by society and by the LGBTQ community as a whole, and "in a sense, people generally hear a feminine presenting woman's side of the story before bothering to listen to the masculine woman's side."
"Erasure is often something I have been experiencing within the community," she adds. Lesbian women are said to be one of the most vulnerable targeted groups when it comes to hate crimes and violence against the LGBTQ community. Mavuso said that being publicly humiliated, threatened and being assaulted because of a masculine appearance also prompted her to create the event.
The gathering will take place on 29 September, at 100 Anderson Street, corner Von Brandis, in central Johannesburg. It will include dancers, live music, lesbian porn screenings and a food and merch market.
The event will run from 20:00 until 02:00. Mavuso said all members of the LGBTQ community are welcome to attend the event. Tickets are R80 here or R120 at the door.
For more information on the event and other Blvck Queer upcoming events, you can reach out to them on Facebook or on Twitter.
Blvck Queer is an entertainment company that focuses on LGBT events, corporate functions and arts-focused events and has been in operation since 2016, It's vision is to create global counter culture spaces and high-end LGBT positive clothing.