Pretoria Pride 2018 is on 6 October. Here are all the details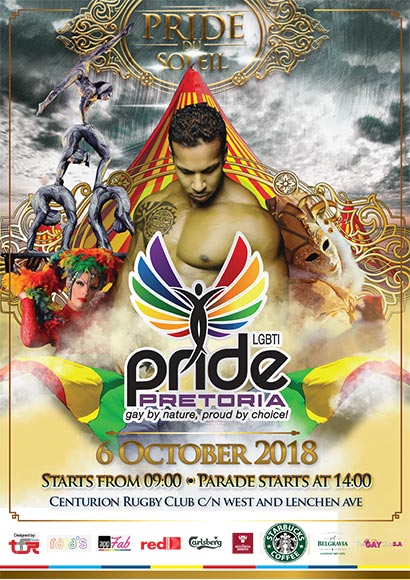 The annual Pretoria Pride parade and festival will take place on Saturday 6th October at the Centurion Rugby Club, in Centurion.
The theme for this year is Pride du Soleil. Think Cirque du Soleil, think Greatest Showman, think Rainbow Circus. Dress up in your most spectacular circus inspired outfit as the LGBTQ community takes over Centurion for a day.
Now in it's 6th year, the event has grown into one of the largest LGBTQ Pride celebrations in the country.
Gates to the festival will open at 09:00 and the parade will get under way at 14:00. Early bird tickets for general access are now on sale at R20.
Entertainment for the day includes live performers, DJs and drag artists.
There will also be a flea market, food stalls and do not forget the very important bar and chill areas.
The VIP area will consist of two spots this year. Red Square will offer a VIP area on the field, between all the action, while the Magic Mike VIP lounge will be hosted in the Clubhouse with topless Magic Mike barmen and waiters. The best news is that your VIP ticket, costing R120, will give you access to both areas.
Pride pageant & art exhibition
Leading up to Pretoria Pride, you can look forward to the Mr and Miss Pretoria Gay Pride pageant on Sunday, 2nd September at the Rockwood Theatre in Pretoria. You can get tickets to the event here.
There will also be an art exhibition showcasing LGBTQ artists. Co-hosted by AppFab and Lucit Restaurant, the 1st Annual Pretoria Pride Art Exhibition will be held at the Lucit Restaurant and Theatre. The exhibition will run from 27 September to 7 October and features works from local and upcoming LGBTIQ+ artists. What will make this exhibition even more unique is that it will also incorporate AR (Augmented reality) technology
The artists that will be displaying their work at the exhibition are: Daniel Steyl; Eric Möller; Jonathan Goodwin Young; Penelope Breen; Adriaan van Vuuren; Hendrik Stapelberg; Alan Samons; Kevin du Plesis; and Harry Engelbrecht.
PRETORIA PRIDE 2018 PARADE & FESTIVAL DETAILS
Date: Saturday 6 Ocober, 2018
Place: Centurion Rugby Club
Time: From 9 a.m.
Tickets: R20 for general entry / R120 for VIP. Buy tickets here.
Route: See route map below