Home Affairs allows secular marriage officers to register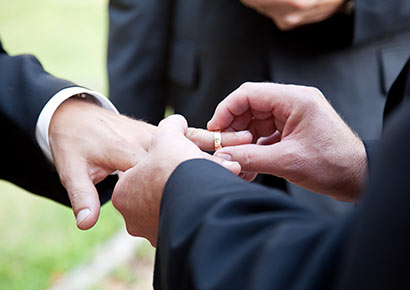 The Department of Home Affairs is now allowing individuals not associated with churches to become marriage officers.
The South African Secular Society (SASS) is celebrating after the department accepted its application to submit members who wish to register as marriage officers.
A marriage officer is a person who is permitted by South African law to marry couples, same-sex or heterosexual, in accordance with the Civil Union Act.
Individuals who wish to register as marriage officers with Home Affairs have traditionally had to be formally backed by a church or a denomination and are only meant to marry members of their congregation.
Now, eligible SASS members can apply to the department to become legally certified marriage officers under the banner of the organisation.
"The wider import of this is that there is now an openly secular avenue for couples — whether same-sex or heterosexual— to legally marry in South Africa under the Civil Union Act," said Rick Raubenheimer, SASS Vice-President.
"It's very important because we now at least have the ability for people who are not religious to get married in a ceremony of their choice," he told Mambaonline.
Secularism is the principle of separating government institutions and those representing the state from religious institution and bodies.
"South Africa is a very religious country, and the vast majority of registered marriage officers are affiliated with overtly religious or spiritual organisations, not all of which are willing to marry same-sex couples or conduct non-religious ceremonies," explained Raubenheimer. "SASS's successful application to the Department of Home Affairs, therefore, upholds South Africa's secular constitution and protects the rights and freedoms of its citizens."
Raubenheimer said that although this was not the first time that a secular group had been allowed to sponsor marriage officers in South Africa this remained unusual. He added that the process for Home Affairs to accredit SASS had not been an easy or quick one, and that the group initially faced some resistance.
The organisation's first two marriage officers are currently completing the certification process. For more information, visit the SASS website.
Marriage officers employed by Home Affairs are currently allowed to opt out of marrying same-sex couples. A Private Members Bill to amend the Civil Union Act to end this discriminatory exception was recently presented in parliament.