Johannesburg Pride 2018 will be a four day event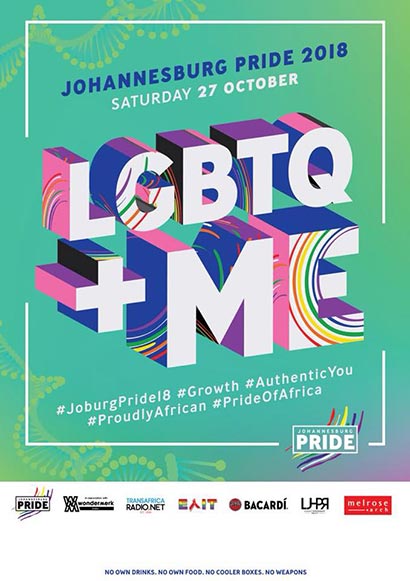 It's almost time for Johannesburg Pride, one of Africa's biggest LGBTQ events, and this year it will be a four day event. 
Johannesburg Pride 2018 will run from the 25th October to the 28th October. Pride month will kick off with a GayPride Month Launch Party and Fashion show on the 6th of October starting at 15h00.
The 25th of October will see the official start of Pride week with Beyond the Closet; a lifestyle conference that focuses on educating the community on LGBT rights, health care and family planning (venue TBC).
On the 26th of October, Pride will host a Fit and Fabulous event (at the Blubird Shopping Centre), partnered with various other fitness providers, including Mika Stefano.
The evening of the 26th will feature the Mister Pride of Africa gala dinner at 20h00 (venue TBC). This glittering event will showcase our community heroes in all their spectacular glory, say the organisers. Applications for a specific segment is open on the Johannesburg Pride website.
The 27th October will see the official Johannesburg Pride Parade and Festival event being hosted at Melrose Arch from 11h00 to 19h00. This year's theme is "Color the Street in our Diversity" and entry is free. Participants and spectators are anticipated to arrive at Melrose Arch from between 10h30 and 12h00. The parade will start from the Pride Village, leaving Melrose Blvd at 12h30.
Johannesburg Pride will further be hosting a Pride of Africa Concert to add to the Pride experience and this music concert will commence at 20h00. Venue and artists to be released at the Gay Pride Month Launch Party on the 6th of October.
The Stand up for Passion is a Family oriented breakfast is on the 28th of October. This asks the community with supportive family members to book a table and join Pride in celebrating their love and support (venue TBC).
According to the organisers, these Johannesburg Pride initiatives are hosted in partnership with Protea Fire & Ice, Melrose Arch, Bacardi and certain South African corporations.
Johannesburg Pride has also partnered with OUTtv SA, an LGBTQ pop channel on DStv channel 198 from the 4th October to the 4th November.
More detailed entertainment lineups and programmes will be released via Johannesburg Pride's social media and website. Book your event tickets here.