Going big! Soweto Pride 2018 to be a three day event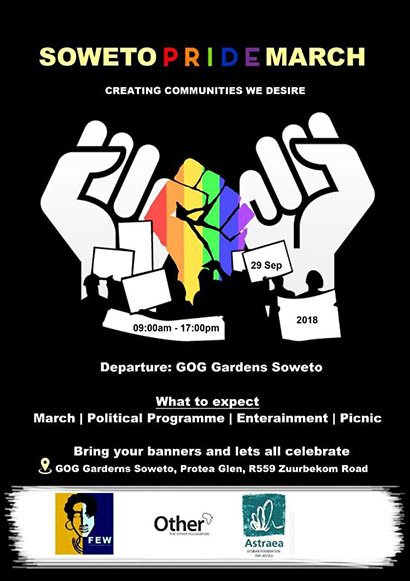 This year's Soweto Pride march will take place on 29 September, with a weekend experience that promises to be unlike any previous Soweto Pride events.
For the first time, Soweto Pride will be a three-day celebration starting on the 28th of September and ending on the 30th of September 2018 – all at one venue. The main event and march will be held on the 29th of September and will mark the theme of "Creating Communities We Desire."
"For years, FEW has worked on advancing and defending the rights of black lesbian women and highlighting the violations faced by this particular community in the townships due to their sexual orientation," said Siphokazi Nombande from FEW (Forum for the Empowerment of Women), which organises the Pride.
"When Soweto Pride was initiated in 2004, the idea was to bring about visibility of lesbian women in the townships and to also work towards reclaiming our voices in our communities."
Unlike in previous years, however, Soweto Pride 2018 will be a three day camping celebration taking place at the GOG Gardens venue. It begins on the Friday with a pre-Pride party, continues on Saturday with the march and post-march events, followed by a star-studded after-party. The Sunday will feature a pool party and picnic.
The Soweto Pride march on the 29th of September begins at 10am from GOG Gardens Soweto. FEW has urged members of the community to bring their banners and march "to raise awareness and reclaim our streets".
While Saturday's day events, including the march and post-march celebrations (until 6pm), will be free to all, the other events will have entry fees. There is also an all-inclusive weekend package available that includes camping, tents and access to all the events for R1,000 for two people.
When asked if the three day weekend was not commercialising Soweto Pride, a frequent criticism of other Pride events, Nombande insisted that Saturday's Pride day would be no different than that of previous years. FEW would continue its policy of not accepting commercial sponsorships or presences at the Pride day event.
"Soweto Pride is not commercial and it will remain a Pride that anyone can attend during the day, whether you are middle class or working class. That will always remain free," she told MambaOnline.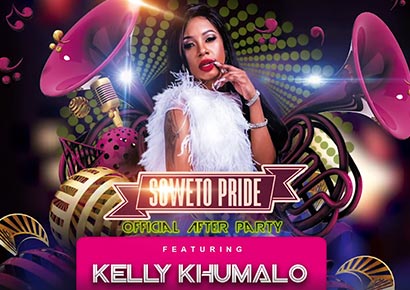 Nombande explained that the other events are being organised by the venue and not FEW, but by holding everything in one location, it is safer for participants and is more appealing for those who come out of town for Pride.
"Normally when we do Pride we will have like five after-parties at different venues… and most of the time people get confused. When the venue said that they wanted to host the after-party [this year], we said, 'okay great'. It makes life easier for everyone, and with the camping option you can just park your car and attend all of these activities."
Nombande added: "We are still about the march. To us Pride is nothing without the political march and the political programme."
Soweto Pride will also host a book launch, a workshop on how to organise a community Pride and a community dialogue on the importance of Pride. Details are to be announced.
SOWETO PRIDE 2018 EVENT DETAILS
Pre-Pride Party
Date: Friday, 28 Sept
Venue: GOG Gardens Soweto (R559 Zuurbekom road)
Entry: R150 (includes entry and coolerbox)
Pride Day and March
Date: Saturday, 29 Sept
Venue: GOG Gardens Soweto (R559 Zuurbekom road)
Time: 9 – 6pm. March starts at 10am
Entry: Free (R100 per coolerbox)
There will be a political programme, entertainment, stalls and refreshments on sale.
Pride Night 'Glow in the Dark' After-party
Date: Saturday, 29 Sept
Venue: GOG Gardens Soweto (R559 Zuurbekom road)
Entry: R150
Entertainment lineup: Kelly Khumalo, Queen Choco, Bujy, DJ Les G and more…
Sunday Pool Party & Picnic
Date: Sunday, 30 Sept
Venue: GOG Gardens Soweto (R559 Zuurbekom road)
Entry: R80 (plus R100 per coolerbox)
A full weekend camping package is available from Computicket.
For more information contact Siphokazi Nombande on 083 304 8910 or Jade Madingwane on 060 791 9006.