Tshwane Mayor Solly Msimanga celebrates LGBTQ community at Pretoria Pride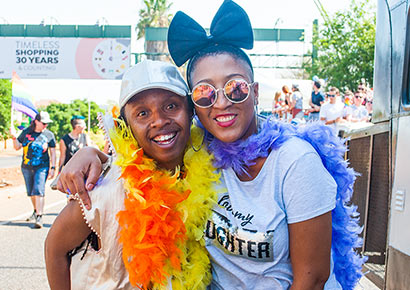 Tshwane Mayor Solly Msimanga addressed enthusiastic crowds at Saturday's Pretoria Pride, calling for an end to discrimination and violence against LGBT people.
This was the second time that Msimanga has attended Pretoria Pride, after taking part in and speaking at the event last year.
The mayor said that the annual gathering is "an important event" for the city to fight LGBT discrimination, to "promote self-affirmation, dignity and equal rights" and "increase visibility of LGBT people as a group."
Msimanga explained that he is a proud ally of the LGBT community. "I find it very strange that people point out that I am openly in support of what you guys are doing and who you are. But I always say that I don't have to be a gay man to fight for the rights of a gay man. As much as I don't have to be a woman to fight for the rights of a woman."
He also called for greater education about sexuality and gender identities. "We need to educate people about our differences," he said. "And if we are not able to do that, this nonsense [LGBT discrimination] will continue over and over and over again.
"So please do your little bit to teach somebody else that you are human and that they should celebrate who you are. Let's go out there and educate our people," Msimanga said to applause from the audience.
He is only the second mayor in South Africa to attend a Pride celebration; the first was Mayor Patricia De Lille who opened the Cape Town Pride parade in 2013.
Saturday's event saw thousands gathering at the Centurion Rugby Club for the 6th Pretoria Pride, under the theme of Pride du Soleil. The occasion featured food and community stalls, bars, and HIV testing services spread out across the field.
The parade kicked off shortly after 2 PM and wound its way through the streets of Centurion. Music pumped out from the floats as participants waved rainbow flags and wore t-shirts emblazoned with affirming messages.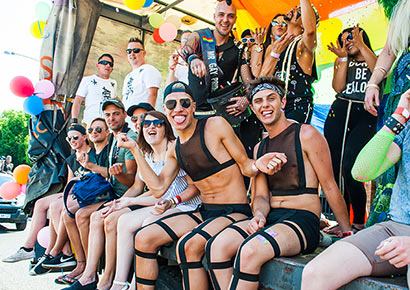 They cheered loudly as passing cars hooted in support. There were few signs of overt activism; for most, it seems, defiantly and visibly celebrating their identity and relationships in a public space was a strong enough message.
Returning to the venue, the crowds were treated to live acts, such as drag star Manila von Teez, and a host of DJs. The celebrations continued into the late afternoon.
Pride organiser Bruce Walker told MambaOnline that he was over the moon about the event. "It was even better than we thought," he said. "We are growing every year and think the diversity was better this year. We are showing an inclusive Pride and I hope more people will come join to make the day better next year."
Check out our FIRST PRETORIA PRIDE GALLERY here and our SECOND PRETORIA PRIDE GALLERY here.