New York City adds third gender category to birth certificates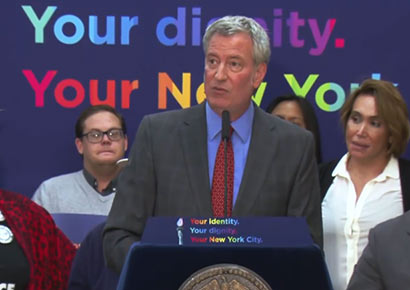 The city of New York will introduce a third gender category on birth certificates and make it easier for transgender people to change their gender identity.
Mayor Bill de Blasio signed the historic bill into law on Tuesday. The legislation, which will come into effect in January 2019, favours self-identification over medical and administrative bureaucracy.
"New Yorkers should be free to tell their government who they are, not the other way around," said de Blasio. "This new legislation will empower all New Yorkers – especially our transgender and gender non-binary residents – to have birth certificates that better reflect their identity, and it furthers the City's commitment to defending the rights of our LGBTQ community."
The law allows for a third gender to appear on birth certificates issued by the City of New York. In addition to the "male" and "female" designations, birth certificates will also show an "X," allowing gender non-binary people who identify neither as men nor women to have a birth certificate that more accurately reflects their identities.
The law also will allow individuals to self-attest their own gender identity on birth certificate applications, removing the current requirement that medical and mental health professionals first confirm an individual's gender identity before they are permitted to amend the gender marker on their birth certificate.
The new law was applauded by LGBTIQ activists. "This legislation is a historic and vital step forward for our city and country," said Ashe McGovern, Director of the NYC Unity Project. "As a non-binary trans person, I intimately understand the discrimination our communities face as a result of mismatched or inaccurate identity documents."
Samy Nemir Olivares, co-founder of Queeramisú – LGBTQ leaders of color for Equality, added: "Not everyone identifies with the male and female gender. There are a lot of people who are non-binary, gender non-conforming and intersex whose gender goes beyond the conventional gender norm of men or women. It's extremely important that these people have easy access to documents that allow them to live and do errands that fit their identity."
With the new law, New York City joins jurisdictions in the US and the world in adding a third "X" gender option to official government documents, including Oregon, California, Washington and New Jersey (for birth certificates) and Oregon, Maine, California, and Washington, D.C (for driver's licenses). Canada, Germany, New Zealand and Pakistan are among countries that provide a gender neutral option on passports.