"A duty to lead": Ramaphosa urged to speak out on African LGBTQ+ rights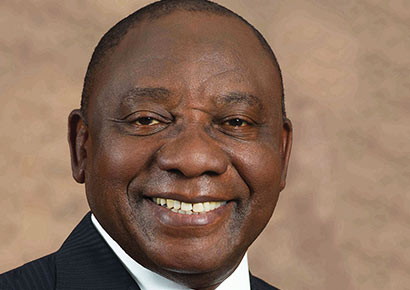 President Cyril Ramaphosa has been urged to condemn the persecution of LGBTQ+ people in Tanzania and in other countries in Africa.
In a letter to Ramaphosa, published on Facebook, Johannesburg Pride Chairperson Kaye Ally acknowledged the support the president has shown to the LGBTQ+ community in South Africa. However, she said, the President should also "recognise the rights of the LGBTQ+ community in the rest of Africa" and "provide leadership in this regard."
Homosexuality is current illegal in some form in more than 30 countries in Africa, mainly through colonial era legislation.
Ally urged the president to issue an official statement condemning the recent arrests and threats to LGBTQ+ people in Tanzania. "It is our hope that in doing this South Africa will go on the record standing up for the very basic human rights to free expression, association and joyful gatherings."
On the matter of the criminalisation of homosexuality on the continent, Ally said that "we see several African countries enacting even more onerous legislation than the anti-homosexuality Penal Codes of the colonisers, as well as committing appalling human rights violations…" She cited incidents of unlawful arrests, forced medial examinations, imprisonment and government spying and monitoring of social media leading to "persecution and exile for many LGBTQ+ Africans."
The letter also noted the recent decision at the 139th Inter-Parliamentary Union (IPU) meeting held in Geneva last month to block debates on LGBTQ+ human rights, a move that was led by Uganda. This was described by Ally as an "insidious shutting down of one of the crucial options provided to African LGBTQ+ people…"
Ally asked Ramaphosa to further establish a "Presidential Advisory Committee for LGBTQ+ Decriminalisation on the Continent of Africa," consisting of professionals, experts on LGBTQ+ issues and members of the LGBTQ+ community.
"We believe, by virtue of our Constitution and the legacy of Madiba, South Africa is charged with a duty to lead Africa, through our own experiences and our historic resolve to uphold human rights, toward the decriminalisation of homosexuality for every country on the continent."
President Ramaphosa has previously spoken out in support of LGBTQ+ equality, but mostly within a South African context. In October, he stated that the "violation of the rights and equal worth of lesbian, gay, bisexual, transgender or intersex people demeans our common humanity as South Africans."
Under former President Jacob Zuma, South Africa consistently refused to condemn anti-gay legislation enacted in other African countries, such as in Uganda and Nigeria, and appointed defiantly homophobic former journalist Jon Qwelane as South Africa's ambassador to Uganda in 2010.