This Cape Town school library now has an LGBTQ books section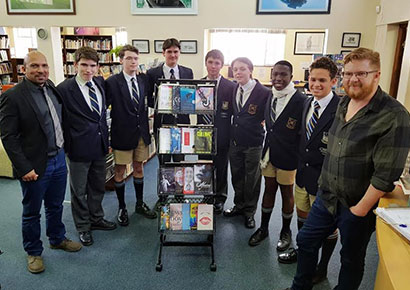 In what could be a first in South Africa and Africa, the library at a Cape Town high school has introduced an LGBTQ books section.
The initiative at the Rondebosch Boys' High School (RBHS) was sparked by the donation of 30 LGBTQ youth orientated books by a former pupil who now lives in the US. The school is one of the oldest in South Africa and was founded in 1897.
The books include fiction titles as well as non fiction books such as the biography of American LGBTQ politician Harvey Milk. It Also features classics like And the Band Played On: Politics, People, and the AIDS Epidemic, and Boy Erased: A Memoir.
The books were presented to the school at a ceremony attended by Headmaster Shaun Simpson, Brandon Siljeur (RBHS Head of Civic & Social Responsibility), boys from the Civic & Social Responsibility portfolio, which includes the E2019 Deputy Head Perfect and school councillors, and Old Boy Matthew Van As.
"We are very grateful for the book donation," said Siljeur. "We believe in and are striving towards embracing diversity more completely." He quoted Ralph W Sockman, who said: "The larger the ocean of knowledge, the longer the shoreline of wonder."
Van As, who is also the Festival Director of Cape Town Pride, believes that the donation makes the collection the first of its kind in a South African school library.
"These LGBTQ books are a safe space for young men at the school who cannot relate to heteronormative story lines. It can give them hope that what they are feeling is normal and 'okay'," he said.
Van As went on to add: "This is something to be proud of. Not only in the sense that it is a first of its kind but also that it is a step in the right direction towards acceptance and change."
The development is a welcome one as schools are often the location of discrimination and bullying of LGBTQ pupils. According to a 2016 Love Not Hate report, 56% of LGBT South Africans surveyed said they'd experienced discrimination based on their LGBT status while attending school.