Host a dinner and support the LGBTI community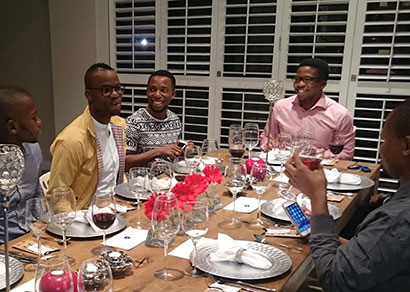 Who says we can't all make a difference? Here's an opportunity to have a great night with friends at home and help support your community.
Dubbed A Million Ones, the new initiative by the Other Foundation, is a community giving campaign to directly support projects that advance the human rights and social inclusion of LGBTI people.
The idea is that friends and supporters of the LGBTI community host personal, intimate and special pledging dinners in their homes, with the support of the Other Foundation, and get their friends to sign-up to give regular donations to good projects.
The Other Foundation provides support to the host of the dinner by making all the dinner arrangements, including a guest chef and set-up on the day. They also pay all the costs of the dinner. All the host has to do is invite their friends and family to the pledging dinner and host it in their home. This gives unique expression to the Other Foundation's identity as truly being a community foundation.
Guests at each dinner are asked to do two primary things: Make a giving pledge and/or host their own A Million Ones dinner for their friends and family. The campaign aims at raising R1 million a month, from pledges as small as R1 per person per month. The ask is so small that everyone can participate.
"The great news is that the Other Foundation has already raised support from generous people who have agreed to match the amount raised, up to three times over," explains Shekeshe Mokgosi, Public Engagement Manager at the Other Foundation.
"This amounts to up to R4 raised for every R1 given at a dinner. And because all our administrative costs have already been paid for, we do not take any part of the donation to cover our operational costs."
He adds that, "Whatever you give goes directly to supporting projects, and we commit to keeping you updated about the projects that are supported with your money."
Set up by Atlantic Philanthropies in 2012, the Other Foundation is an LGBTI community foundation that provides grants and support for lesbian, gay, bisexual, transgender and intersex (LGBTI) projects and groups in Southern Africa.
Three steps to hosting an A Million Ones dinner. It really couldn't be easier!
1. SIGN UP
Select a date that works best for you, then identify up to eight guests to attend your dinner. You can then contact Shekeshe Mokgosi at smokgosi@theotherfoundation.org or on +27 82 890 3406, to share the date, your home address, and the contact details of individuals on your guest list. Be sure to prime your guests before the dinner by checking their availability, as well as letting them know that the purpose of the dinner is to pledge money to support good projects.
2. RELAX
With the date, venue and guest list set, we will step in and provide all the necessary support to make your A Million Ones dinner happen. We will hire a guest chef who will provide all the food and tableware, and we will formally invite and regularly correspond with your invited guests to remind them about your dinner. We will also work with you, the host, to decide on the menu for your dinner, and to tailor your A Million Ones experience to your taste.
3. ENJOY
On the day, our chef will arrive early at your home to prepare a delicious, three-course meal, as well as smartly set-up the dinner table in anticipation of the arrival of your guests – along with someone from our team. During the dinner, you and your guests will enjoy a wonderful and intimate dinner, and be engaged in organic, light discussions about our work and some of the great projects being implemented for and by LGBTI people. Towards the end of the dinner we will invite any pledges, and we commit to keeping you updated on the projects funded with your support.
For more information on the Other Foundation visit www.theotherfoundation.org.