Books: New South African transgender memoir published
A new book about the life and experiences of a transgender South African woman will be launched in Cape Town and Johannesburg in the coming weeks.
Always Anastacia: A Transgender Life in South Africa, published by Jonathan Ball Publishers, is a memoir by medical doctor Anastacia Tomson.
Born into a Jewish family in Johannesburg and raised by her parents as a boy, Tomson says she was never sure just how much of her persistent internal discomfort to blame on her often troubled family life and strict upbringing.
She qualified and practised as a doctor, but it would take a great deal more clear-sighted and difficult questioning, not least of the medical fraternity, to finally find peace and self-acceptance.
The memoir is described as "a clarion call for a more nuanced understanding of trans people and the concepts of sex, gender and identity" and a "courageous account of self-discovery and transition as Anastacia embraces her truth, as the woman she has always been."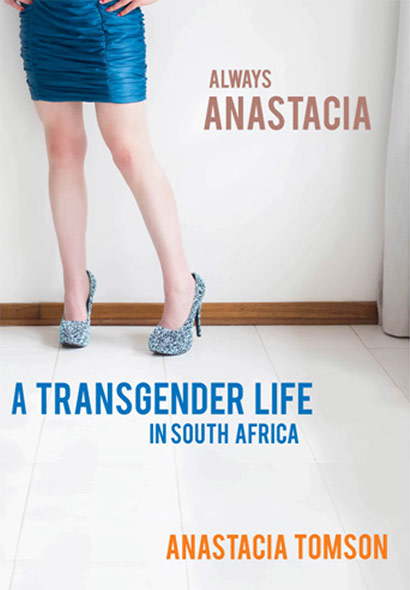 In an excerpt from the book, Tomson writes: "I have fought hard, held back for decades by a body that did not fit and an identity that did not belong.
"At first, it had seemed like transition was a vague and unattainable aspiration, a romantic ideal that was incompatible with reality. But now – after five months of hormone therapy, countless sessions of painful laser hair removal and multiple appointments with doctors and psychologists – it is very much a reality."
Tomson has worked as a general practitioner both in the public and private sectors, and also has a background in freelance journalism.
She says she has a passion for activism and advocacy, with a specific interest in promoting access to healthcare for transgender and gender non-conforming individuals.
The book is one of just a handful produced on transgender lives and issues in South Africa. In March 2015, Junkets published Miscast, by Charmaine Kendal, a local novel about a transgender teen coming to grips with his true identity.
Always Anastacia will be launched at discussions with Tomson in Johannesburg on Tuesday, 31 May at 6pm at Love Books (Melville) and in Cape Town on Wednesday, 1 June at 5.30pm at The Book Lounge.
For more information and to RSVP contact info@lovebooks.co.za (Joburg) and booklounge@gmail.com (Cape Town).