Breaking! Gretha Wiid "apologises" – speaks about gay brother and homophobic book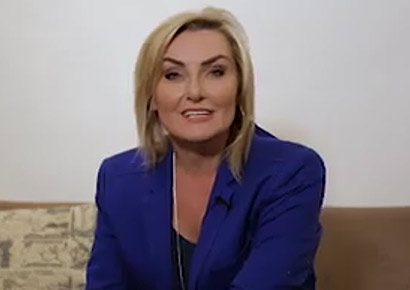 Christian celebrity relationship guru Gretha Wiid has offered an apology of sorts while justifying her youth advice book that includes contentious views on homosexuality.
In a video posted on Facebook, Wiid said that she wanted to put the book, aimed at those between the ages of 10 and 13, into perspective; explaining that it was written and published in 2009.
An excerpt on the topic of homosexuality went viral this past week on social media, alarming many who believe that it offers inaccurate and dangerous information that could negatively affect young LGBT people and their families.
In the video, Wiid says that she has numerous qualifications in psychology and human sexuality, and that she has been presenting courses on these topics for 20 years.
She then reveals that the topic of homosexuality is actually very close to her heart because "my own brother is part of the homosexual community. My brother is gay and he has a long-time life partner. We are very close".
Wiid insists that she's not going to defend her book or herself, but wants to instead share part of her heart with viewers. She also claims that the excerpt on homosexuality was misunderstood.
With regard to her explanation of the word "moffie" (faggot) to the young readers, Wiid points out that she later urges them in the book to never use such a word, even in a joke.
She argues that she intended to explain stereotypes to children and calls on them not to tease or bully other kids who do not play rugby and rather play musical instruments.
"The fact is that I shared my opinion as a child of God. And your opinion might not be the same as mine. The word of God is open to interpretation. And we all have freedom of religion and freedom of speech and freedom of opinion."
Wiid urges young people struggling with their sexuality to speak to someone because gay people are often rejected around the world… "and I don't believe in my whole heart that this is Jesus' plan".
Wiid states that she will not apologise for her experience and knowledge included in the book, "but I can today say that if I have wronged you, as a parent or child in this situation, with my word choices or the way that I wrote, then for that I apologise."
She adds: "I never said that gays are going to hell. Heaven and hell are not my domain or my area of discussion…"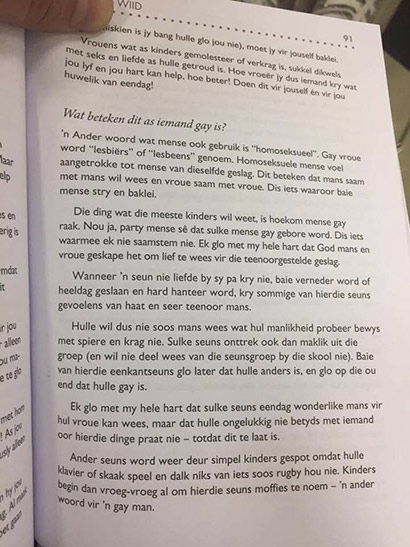 Wiid, however, does not address two of the most controversial views in her book: that boys become gay because of an unloving father figure and that homosexuality can be corrected in young people if they "speak to someone about these things in time – before it is too late".
LGBT activist and attorney Coenie Kukkuk was not impressed with the video and commented that "it is not an apology but a justification that offers her views on biblical grounds and not scientific grounds". He added that "she preaches half of the 12 minutes".
Kukkuk told Mambaonline that, crucially, Wiid did not address the belief that being gay is a choice. Nor did she agree to withdraw the book.
"She never once says that an enormous amount of research suggests that homosexuality is something we are born with. For me, nothing has changed."
Kukkuk did acknowledge that Wiid is "at least addressing the issue and not running away, although her explanation is unsatisfactory. That is more than we can say about people like Angus Buchan and Jon Qwelani."
Wiid is a popular public speaker, lay preacher and relationship expert in the Afrikaans community and has been described as a female version of controversial preacher Angus Buchan.
In March last year, the World Psychiatric Association  stated that trying to "cure" LGBT people, known as "conversion therapy", doesn't work and is both dangerous and unethical.
Although the South African Society of Psychiatrists has condemned conversion therapy, it remains legal and is practised in South Africa by some religious groups.
Watch Wiid's apology video below and judge for yourself.