Homophobia wins as 'Inxeba (The Wound)' effectively banned in SA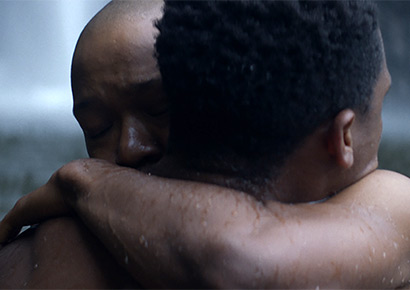 In a devastating blow against freedom of speech, the Film and Publication Board (FPB) Appeal Tribunal has re-rated Inxeba (The Wound) as a hardcore adult film.
The gay love story was originally released with a 16 LS (language and sex) rating but in a move that kowtows to homophobic pressure from culture traditionalists, it has now been given an unjustifiable X18 rating.
Effectively immediately, Inxeba has been pulled from cinemas and can no longer be shown in standard film theatres, only in licensed adult premises.
"A rating of X18 means that the material can only be distributed from designated adult premises," confirmed the FPB in a tweet. "This means the film cannot be screened in cinemas or any other platform that is not a designated adult premise as defined by the Film and Publications Act no 96 of 1996 as amended."
It revealed that, "The Chairperson of the Appeals Tribunal in consultation with other tribunal members agreed to hear the appeal based on applications lodged by CONTRALESA Gauteng and The Men and Boy Foundation."
Traditional leaders, represented by these two groups, have claimed that the film's depiction of sacred and secret initiation ceremonies and the inclusion of homosexuality in this context are an insult and attack against the Xhosa culture.
The South African release of the internationally acclaimed film earlier this month was marred by protests and intimidation by traditionalists, who called for its banning. A number of cinemas around the country were forced to postpone or cancel screenings following threats to damage property and against the safety of staff.
The film's producers argue that Inxeba does not reveal anything not previously exposed, that they researched and consulted extensively with communities and that homophobia is at the heart of the protests.
Mambaonline has reached out to the filmmakers who said that they are preparing a response to the latest development. In the meantime, the Democratic Alliance has condemned the decision to re-classify the film to X18.
"X18 is one of the most severe ratings a film or publication can receive, one step away from an outright ban," said MP and DA shadow minister of communications Phumzile Van Damme. "We encourage the producers of Inxeba to fight, fight, fight, all the way to the highest court in the land by urgently taking this decision on review."
Van Damme added: "It is a shame that the FPB's Appeal Tribunal buckled to pressure from patriarchs and homophobes, instead of siding with the Constitution, the supreme law of the land."
URGENT ANNOUNCEMENT:
The Film and Publication Board (FPB) Appeal Tribunal has overturned the classification rating of 16 LS given to the film Inxeba – The Wound and gave it a rating of X18 with the classifiable elements of Sex, Language, Nudity, Violence and Prejudice.

— FPB (@FPB_ZA) February 14, 2018